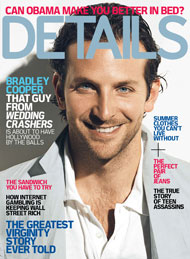 Condé Nast has released their June/July 2009 issue of Details Magazine. In the feature article, Bradley Cooper, the hangover star is about to have Hollywood by the balls. Also featured are Isabel Lucas, Barack Obama, Justin Gaston, Derek Black, Arlen Specter, and Jenna Lyons.
Bradley Cooper Is High On The Hangover
With the physique—and appetite—of a prizefighter, impeccable comic timing, and a breakthrough role, the bully from Wedding Crashers is about to have Hollywood by the balls
Sexy Transformers Star Isabel Lucas
The alluring Aussie is a passionate animal-rights activist who writes herself notes on her body. So yes, there is more to her than meets the eye
Young Guns
Meet the teenage American hit men who are getting paid to kill for the Mexican drug cartels
Are You Becoming Barack Obama?
(And could that be a good thing?) Never mind politics—from the way we wear our suits to the way we relate to our wives, somehow American men are acting a little more like 44
Room Service
Hot nights in the city call for lightweight suits, pops of color, and shoes worthy of Prince
How Internet Gambling Is Keeping Wall Street Rich
A generation of down-on-their-luck brokers are trading in stocks for Plan B—online poker
Justin Gaston: The Trouble With Dating Miley Cyrus
Forget how he feels about being the boyfriend of Disney's megastar—Justin Gaston is just happy not to be modeling briefs
How Looking Poor Became The New Status Symbol
They dress like hoboes but spend like millionaires. Meet the poorgeoisie
Derek Black: The Future Of White Power
On the surface, he's just another baby-faced fan of Taylor Swift and Twilight. But underneath lurks the next David Duke
The Greatest Virginity Story Ever Told
When guys go to Vegas, there's usually only one thing on their minds. Otto Baxter is no different—except for the fact that he has Down syndrome
Wiseguy: Arlen Specter
The newly minted Democrat talks about battling Bush, singing Sinatra, and why monkeys shouldn't climb flagpoles
Saturation Point: Second Weddings
Now that showbiz couples are making sequel ceremonies fast and furious, isn't it time to stop saying "I deux" and return to a single nuptials?
Three Ways To Wear Patterns This Summer
Madras, gingham, and seersucker have always been the holy trinity of any Wasp's summer wardrobe. But this season, even Pabst Blue Ribbon hipsters are joining the faithful
Rules Of Style: J. Crew's Jenna Lyons
The creative director on vintage watches, slim jeans, and the horror of pleats
How To Wear A White Suit
Approached with care, the look is striking and thoroughly of the season. Just make sure you can handle the spotlight
 [DFR::details-3218|align_left_1]