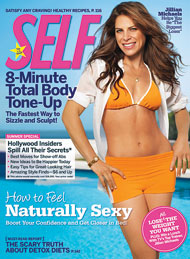 Condé Nast has released their July 2009 issue of Self magazine. In the feature article for this issue, the Biggest Loser coach, Jillian Michaels helps you fulfill your health goals. Also featured are recipes from some of Los Angeles' top eateries, putting your sexier side on display, lightening up your makeup, successful spiritual strategies, and controlling weight tips!
Dine like a star!
Crave a little taste of fame? Whip up these naturally healthful celeb-approved eats from L.A.'s top restaurants.
Be unabashedly sexy!
Cali gals have a rep for being naturally sensual. Learn how to unleash your inner flirt and flaunt your sexy side!
Natural beauty
Take a break from heavy makeup. For your prettiest summer face, lighten up with tips from celebrity pros.
The new happy
Create your own bliss with the same spiritual strategies adopted by many West Coast women.
11 ways to change your weight fate
Seemingly harmless habits can affect what size you'll be 5 or 10 years from now. Peek into your future with our quiz. Then use this cheat sheet to target the most effective ways to make a difference. Want to see how you?re doing? Retake the quiz every month to track your progress.
Scene-stealing snacks
Lurking on the sets of your favorite shows: catering tables loaded with junky food. Check out how nutritionist-to-the-stars Ashley Koff, R.D., slashes the fat (but not the fun) so celebs actually like to eat healthfully. Then do it yourself!
Top-notch toppings
Cool down with a tangy L.A. treat: fro yo! Spruce up a plain swirl with 2 tablespoons of these tasty, healthy picks.
The scary new skinny
Women in L.A. are naturally so slender, they don't need to worry about losing weight. Um, yeah, right! Their latest "healthy" method for staying slim can border on the downright dangerous—and it's probably already changing the way we all think about diets.
Help save my hair!—experts have their say
Achieving glossy, healthy strands doesn't have to be a battle. Pros at the Neil George Salon in Los Angeles helped four women conquer their toughest style issues. Defeat your own 'do saboteurs with these makeover maneuvers.
[DFR::378812-1154-ls|align_left_1]