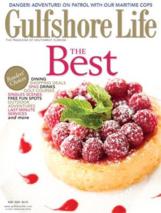 Curtco/GSM has published its May 2009 edition of Gulfshore Life! Featured in this issue are articles on: The Best Readers' Choices, Dining, Shopping Deals, Spas, Drinks, Golf Courses, Singles Scenes, Free Fun Spots, Outdoor Adventures, Last-Minute Services, and more. Danger! Adventure! On patrol with our Maritime Cops.
Featured Articles
Best of the Gulfshore 2009
The tally is in: Our readers name the top people, places and services around.
For this year's best of the Gulfshore, we put the fate of the winners in the people's hands with a readers' choice ballot. And you are a discerning lot—determining the quality places to find the best steak or martini, meet singles or get a haircut. Make no mistake: The people have spoken, and the winners are …
They'll Save Your Life (And Your Purse)
There's many a dramatic challenge for the cops who patrol our coastal waters.
While patrolling the Gulf of Mexico near Naples, Dave Johnson of the Collier County Sheriff's Marine Bureau knew the dark plume two miles away was more than just diesel exhaust smoke. He rushed to the scene and found an elderly couple aboard a blazing cabin cruiser. "I knew I had one shot to get in there," he says. "You worry about an explosion."
Johnson jumped aboard and helped the couple onto his boat. But the drama wasn't yet over. While the woman yelled, "My purse! My purse!" Johnson jumped back onto the burning boat and retrieved it.
Travel
Seduced by Savannah
Springtime in Savannah. A picture may be worth a thousand words, but those three words are worth 10,000 pictures. I wish I had space here to show you 10,000 pictures of the city that so enchanted Gen. W.T. Sherman in 1864 that he could not bring himself to burn it in his earth-scorching March to the Sea. Instead, he gave it to President Abraham Lincoln as a Christmas present.
His Christmas card read, "I beg to present to you as a Christmas gift the City of Savannah with a hundred and forty heavy guns and plenty of ammunition and also about 25,000 bales of cotton."
Scene & Heard
Triple Your Pleasure … Dramatic Proposal … A Magical Night
Can you top this? a charity event that tripled its take over last year? With more than 400 in attendance at the Miromar Lakes Beach and Golf Club on the last weekend in February, the Southwest Florida Wine & Food Fest raised $750,000 for the Children's Hospital of Southwest Florida. And check out these highlights:
Realty Check
A Boost for Local Real Estate
One bright spot in the current residential real estate market is the imminent launch of a commercial project—a science and technology park planned for 24.6 acres at Southwest Florida International Airport.
Luxury Home & Design
The Asian Island Look
When the original three-bedroom ranch house on Gordon Drive was leveled to the ground, Naples architect David Poorman was challenged to help his clients, a couple from Missouri, build a new home that would act as guest quarters to their beach house across the street.
Because the homeowners wanted a Southeast Asian island motif, Poorman's design was inspired by the works of famed Sri Lankan architect Geoffrey Bawa as well as traditional Balinese elements, he says.
Here & Now
Recession Cure-all? Rubbing Salt in the Wound
Not to be cavalier about this recession thing—I've lived through three already, the first in 1973, the year gas prices skyrocketed from 38 cents to 55 cents a gallon and the whole country panicked over an alleged toilet paper shortage. Still, there's something sweetly hopeful about this one, at least here along the Gulfshore.
This time around, we each seem to be trying, in our individual way, to do our small part. Even when we don't technically have to, it has become very chic to downsize, especially if we get to talk about it. Why just the other day, I overheard a guy on his iPhone/TV/computer/DVD burner/martini shaker saying that he'd just traded his big, conspicuous Hummer for a lightweight little Porsche Carrera GT. OK, I made that up, but it's true that a business owner known for her impeccable style recently was spotted at Whole Foods gushing about the perfect little Eric Javits bag she picked up for $49 on—gasp!—eBay.
Savvy restaurateurs saw this coming and headed straight for simplicity. Move over, Extra Virgin Olive Oil (EVOO, north Naples), because just last week I had lunch at that trendy new Naples restaurant whose namesake menu item is a plate of salt.
Gulfshore Insider : What's happening… what's hot in May
From the Editor : Best Bets From Our Editors
Fashion : Show Time!
Culture Watch : The Silly- and the Sublime
May Calendar : What's happening this month.
Appetite : Yes for Business and Pleasure
Ahead of the Curve : 7 Things You Need To Know About… Finding Our Hidden History
Fashion Forward : Off the Runway, Shopper Alerts, Local Shopping
The Look : Great Taste
[DFR::776112-1154-ls|align_left_1]