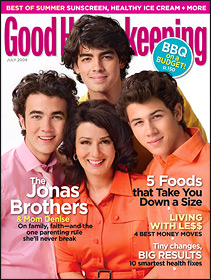 Good Housekeeping has released their July 2009 issue. Featured in this issue are articles on the mom of the Jonas Brothers, summer's fashion deals, 4 steps to keep your finances afloat after being laid off, and the best products of the summer to tempt you into spending even more money.
How to Raise Rock Stars
Denise Jonas, mom of the Jonas Brothers, opens up about how she keeps them grounded. Plus, download a free poster, watch behind-the-scenes video, and enter to win an autographed magazine and CD.
From food stamps to fame, it's been a wild ride for Denise Jonas, mom of America's biggest pop stars, the Jonas Brothers. Here, she opens up about how she keeps them grounded and makes her marriage work — plus the one parenting rule she will never, ever break
About a year ago, Denise Jonas took her family to a Bob's Big Boy near Burbank, CA. As everyone began deciding between the fried chicken and cheeseburgers, in walked Kristy McNichol, the actress who starred in the late-1970s TV series Family and the 1980 film Little Darlings.
Summer's Best Fashion Steals
Warm-weather looks don't have to burn your budget — not when these chic, bankable buys cost $50 or less!
Versatile Skirts
A wardrobe-stretching tropical-patterned skirt is evening-worthy with heels, or day-trip comfy with flip-flops.
Bright Florals
Your fashion dollar goes further if you pick sun-ready separates with a vacation vibe. The forgiving fit of this body-skimming floral linen tunic keeps you cool when it's sticky — and it can double as a beach cover-up.
Eye-Catching Orange
This do-it-all dress, with its go-anywhere versatility, gives you more than you bargained for: The shin-swishing length plays up shapely calves, the flowy fabric glides over hips, and the strategic shirring (and touch of spandex) helps hold you in.
Pretty Petal Pushers
Be kind to your bottom line with these breezy, botanical-splashed capris, as carefree as shorts (but less revealing); the prints partner perfectly with solid-color basics. Team either with a tequila-green straw tote for a casual combo.
Easy Everyday Dresses
Take a stroll on easy street, thanks to everyday-wearable dresses in classic cuts and traffic-stopping hues. This ladylike, sleeveless stunner, left, swirls with fool-the-eye florals, while a sizzling shade of salsa, right, heats up a weightless faux-wrap style.
Caribbean Cool
The best deal under the sun? A Caribbean-colored skirt loaded with islandy details — embroidery, crocheted lace — that will instantly summerize any top or tee.
You've Been Laid Off. Now What?
Lost your job in this economy — or afraid you will? Follow these four steps to keep your finances afloat.
Maybe you've recently gotten the pink slip at work — or you fear you might be next: You are not as alone as you might feel; over 660,000 people lost their jobs in March alone. And since the economy isn't yet on the rebound, many of the newly unemployed are feeling stranded, with no prospects for a new paycheck. Financially speaking, cutting back on lattes isn't going to do the trick.
While times are tough, you can get through them if you make the right moves — knowing, say, when to cash in your 401(k) and when not to, and how to find discounted health insurance. Here, the latest, smartest strategies so you can keep your head above water.
Old thinking: Cut back on eating out
New thinking: Cut back on everything
Old thinking: Sign up for COBRA, but find a cheaper plan ASAP
New thinking: Sign up for COBRA for at least nine months
Old thinking: Tapping retirement funds should be a last resort
New thinking: If you're forced to do so, tap the Roth IRA first
Old thinking: Put your credit cards away — period
New thinking: Get a 0 percent-interest card and use it responsibly
The Best of Summer: GHRI's Top Products
Experts at the Good Housekeeping Research Institute share their picks for the best summer gear.
Mix to the Max
Oster's Classic Beehive Blender is one of the few models we've worked with that does everything well — grinding coffee, chopping nuts, pulverizing ice. In fact, in tests of blenders over the years, it's always creamed the competition. With only one speed and a pulse function, it's a cinch to use. In summer, I keep fresh fruit on hand so my son can make his own smoothies. And I preserve my garden basil by chopping in the blender with olive oil, packing a thin layer into self-sealing bags, and freezing flat. When I need some, I just snap off a chunk.
Ice Cream Dreams – At-Home Treats
If you'd like to stock the freezer with sweets, try my low-guilt picks: Dreyer's/Edy's Slow Churned Frozen Yogurt Blends in Tart Mango or Tart Honey. They're 100 calories and 1.5 grams of fat per half-cup serving, and deliver tangy yogurt-shop flavor for a fraction of the cost. For chocoholics: Breyers Smooth & Dreamy reduced-fat ice cream just introduced Chocolate Chocolate Chip, a decadent flavor that's surprisingly low-cal, with 140 calories and 5 grams of fat per half cup. Also new: Strawberry Cheesecake. With 120 calories and 3.5 grams of fat per half cup, it's tasty and even lighter.
The Sounds of Summer
Griffin Evolve Wireless Sound System lets me move the party from room to room, or even outdoors. The speakers can be placed up to 150 feet from the base station, which plugs into the wall and has a built-in iPod dock. (Auxiliary inputs allow you to play nearly any audio device, such as another MP3 player, a stereo, or a TV.) The speakers can last for 10 hours, and then rest on the base station to recharge.
Super Spinner
My secret to a perfect salad: Drying the greens after washing. Water on lettuce dilutes dressing, which then runs off; adding more is wasteful (and fattening). The Zyliss Easy Spin whirls away water, removing more moisture than any other spinner I've tried.
Kiddie Corner
Chunks O' Fruti Strawberry Fruit Bars are a smart choice for ice-pop fans like my 5-year-old son. A 90-calorie, fat-free bar delivers 35 percent of daily vitamin C requirements — along with chunks of real fruit. As a mom and nutritionist, I'm pleased that the pops don't contain the artificial ingredients plaguing many goodies marketed to children.
Play Mates
With three sons, ages 7, 11, and 15, I'm always looking for toys they can use together (and, I hope, not squabble over). Spalding Rookie Gear balls are the same size as regular youth balls, but weigh 25 percent less — my youngest can take on his bigger brothers without being at as much of a disadvantage.
Silky Sunscreen
Like any mom, I worry about my kids' getting too much UV exposure, but slathering on gunky lotions isn't their idea of fun in the sun. Neutrogena's Ultra Sheer Dry-Touch Sunblock promises a "weightless clean feel," and I think it delivers. Our lab tried the full line, from SPF 30 to the new SPF 100+, and all absorb quickly with no stickiness. It hasn't been proven that astronomical SPFs are needed; the American Cancer Society recommends 15 or higher to defend against sunburn. What's most important, I tell my kids, is reapplying a palmful every two hours and after swimming.
Made in the Shade
SunSafe's Beautiful Bucket Hat is one of the few beach hats I've tried that has a 50+ Ultraviolet Protection Factor, thanks to the tightly woven fabric — quick-drying, so it's perfect in and out of the water — and a wide brim that gives good face and neck coverage. The hat fits comfortably and stays put even in the waves. I don't realize I've had it on for hours until one of my sons teases me about it! Also, in our lab tests, it didn't fade or shrink after multiple washes.
Grill Power
The space-saving Char-Broil Infrared Commercial Series Urban Grill with two burners simply sizzles. It cooks evenly with no flare-ups or charred spots. I love that steaks are branded with a beautiful crosshatching, and chicken turns out delectably brown with crispy skin and no burned edges. Though it's compact, the grill can still cook 16 burgers at once. Nice extras include two thermometers (one for each burner) and perforated trays beneath the stainless steel grates that let the heat through but catch bits of food for easier cleanup. A bonus: The grill comes with a custom-fit vinyl cover to protect it from the elements.
[DFR::194512-1154-ls|align_left_1]