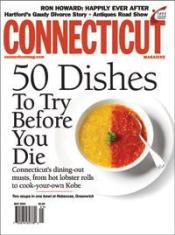 The Connecticut Magazine has released their May 2009 issue. Featured in this month's magazine are 50 Connecticut dishes you should try before you die, Angels & Demons, teeth whitening, mini face-lifts, brow lifts, hair restoration, fractional laser resurfacing, and a home decorating and remodeling guide.
50 Dishes To Try Before You Die
Although Connecticut is a veritable paradise of gastronomical delights, there are certain signature dishes that anyone who considers themself a true resident should try at least once. Here are 50 to get your started.
Happy Days
From his memorable turns as Opie Taylor and Richie Cunningham to his latest directorial effort Angels & Demons, Academy Award winner Ron Howard has enjoyed a long and successful Hollywood career while maintaining that "aw shucks" charm.
Change You Can See and Feel
We look at the latest trends in teeth whitening, mini face-lifts, brow lifts, hair restoration, fractional laser resurfacing and more. Looking better doesn't have to take weeks anymore!
Special Section: Home Decorating & Remodeling Guide
Looking to make some changes to your house or yard? Let us inspire you with a trio of recent makeovers, then help you get it done with our comprehensive list of products and services.
Columns And Departments
Lary Bloom's Notebook
The high-profile divorce case of United Technologies chairman George David and his Swedish countess wife has provided all the lurid fireworks anyone could desire.
First
Sorting out the sources for state budget deficit projections, playing brain games with Charles van Doren and exploring the new Connecticut Science Center. Plus, spring fashion trends, My Little Red Book and more.
This Month
The monthly assortment of plays, shows, exhibitions, fairs and events as well as a chat with always-perverse director John Waters and a visit to Two Boots in Bridgeport.
Travel/Ski Towns in Summer
We journey to four renowned ski towns that offer as much to do in the summer as they do in the winter.
The Connecticut Table
Top-of-the-line dining at Winvian in Morris and The Study at Yale in New Haven. Plus, a recipe from the new Barcelona cookbook, Table Talk and the state's most comprehensive dining guide.
[DFR::513112-1154-ls|align_left_1]