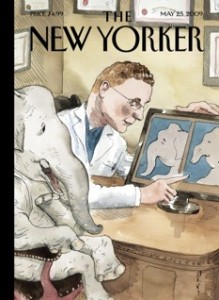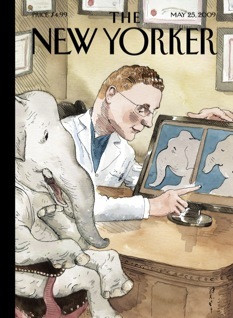 Condé Nast has published the May 25, 2009 issue of The New Yorker. Featured in this magazine are articles on Obama's options in Pakistan, Dodge Landesman, Ari Emanuel and learning-disorder awareness, Todd Palin and Alaska Benefisheries, and Baselworld trade show.
Comment
In Search of Success
Obama's options in Pakistan.
In 2007, a Guantánamo military commission reviewed prisoner No. 008, also known as Abdullah Gulam Rasoul, a designated enemy combatant who had been held without legal rights for about six years. Rasoul told his captors that he had "never been America's enemy and I never intend to be." Guantánamo's quasi-jurists transferred him to Afghanistan's government, which set him free. This spring, under the name Mullah Abdullah Zakir, he has resurfaced as one of the most vicious and effective Taliban commanders in Afghanistan's southern Helmand Province, where thousands of recently deployed U.S. troops are now arriving to join the battle.
The Talk of the Town
Dodge City
The youngest City Council member in history?
Talk story about Dodge Landesman, an eighteen-year-old candidate for City Council.
Fish Out of Water
Todd Palin at Alaska House.
A couple of Fridays ago, when the weather was warm and office workers all over the city were streaming up the avenues at lunchtime, a group of Alaskans gathered at Alaska House, on Mercer Street, for a buffet lunch celebrating a program called Alaska Benefisheries. The program works like this: Every spring, salmon across the Pacific are seized with an urge to swim to Alaska, to spawn in the tributaries of the rivers where they were born. But, before they get there, most are caught by fishermen and sold to restaurants all over the world. What's not sold is canned and shipped to countries that have food shortages—Bolivia, Laos, Cambodia, among others.
Hug It Out
Ari Emanuel and learning-disorder awareness.
The shtick of successful, confident people insisting that they were losers back in high school can be unconvincing, but the talent agent Ari Emanuel—a winner, if not a born one, who, after the merger of Endeavor and William Morris, will become co-C.E.O. of the second-largest shop in Hollywood—had it pretty tough
The Privileged Few
Now boarding—everybody but you.
On and Off the Avenue
Face Value
What makes the watch business tick.
About luxury wristwatches and the Baselworld trade show. Held over eight spring days for the past thirty-seven years in Basel, Switzerland, Baselworld is the largest watch trade show in the cosmos.
Shouts & Murmors
Book Club
by Ann Hodgman
The Sporting Scene
One-Stop Shopping
The great college lacrosse tryout.
In early summer, high-school rising seniors from all over the United States play lacrosse for three days on the vast campus of the University of Maryland, at College Park.
 
No More Mr. Nice Guy
The stealth activism of John Roberts.
When John G. Roberts, Jr., emerges from behind the red curtains and takes his place in the middle of the Supreme Court bench, he usually wears a pair of reading glasses, which he peers over to see the lawyers arguing before him. It's an old-fashioned look for the Chief Justice of the United States, who is fifty-four, but, even with the glasses, there's no mistaking that Roberts is the youngest person on the Court. (John Paul Stevens, the senior Associate Justice, who sits to Roberts's right, is thirty-five years older.) Roberts's face is unlined, his shoulders are broad and athletic, and only a few wisps of gray hair mark him as changed in any way from the judge who charmed the Senate Judiciary Committee at his confirmation hearing, in 2005.
The Sixth Extinction?
The earth's species in peril.
Describes how graduate student Karen Lips observed the mysterious disappearance of large numbers of local golden frogs, in the nineteen-nineties, at several locations in Panama and Costa Rica. Whatever was killing Lips's frogs moved east, like a wave, across Panama. Of the many species that have existed on earth, more than ninety-nine per cent have disappeared. Yet extinction has been a much contested concept.
"Ava's Apartment"
by Jonathan Lethem
The movies of Victor Fleming.
Briefly Noted: "The First Tycoon"; "The Age of the Unthinkable"; "The Way Home"; "All the Living."
"Mental."
by Nancy Franklin
An all-black "Death of a Salesman," "Bloody, Bloody Andrew Jackson."
by John Lahr
Venice and the birth of opera.
by Alex Ross
 
The portraits of Alice Neel.
by Peter Schjeldahl
The Guggenheim at fifty.
by Paul Goldberger
"Angels & Demons," "Summer Hours."
by David Denby
 
"Hummingbird"
by Robert Gibb
"1934"
by Philip Levine
The work of Wallace Shawn.
by Hilton Als
Leonard Freed, at the Silverstein gallery.
by Vince Aletti
Bar Breton
by Mike Peed
[DFR::299047-1154-ls|align_left_1]