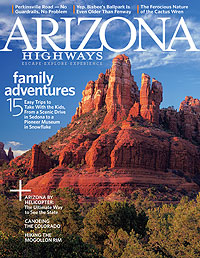 The May 2009 issue of Arizona Highways has been published. Featured are articles on family adventures, water destinations, helicoptering over the Grand Canyon, Topock Gorge, Bisbee's historic Warren Ballpark, driving Perkinsville Road, and hiking Rim Lakes Vista Trail.
Family Adventures
Clark Griswold wasn't worried about finding the Grand Canyon. "It's the biggest hole in the world," he said in Family Vacation. Whether you're loading up the "Family Truckster" for a trip to the world's Seventh Natural Wonder, or just looking for a quick, economical family adventure all your own, Arizona has something for every family. By Kelly Kramer
Water, Water Everywhere
Arizona isn't exactly known for its water supply. Canyons and cactuses, yes; water, no. Well, like the Arizona Cardinals, who proved that a football team from the desert really could go to the Super Bowl, we're using this month's portfolio to prove that Arizona has some of the most spectacular watering holes in the world.
By Gary Ladd
A Better View
The Grand Canyon is spectacular no matter where you're standing — on the South Rim, along the river or on the roof of a Winnebago. Those vantage points, however, pale in comparison to the views you'll get from a Robinson R44 Raven II helicopter. It's the best way to see the Canyon, as well as Sedona, Monument Valley and every other inch of Arizona.
By Keridwen Cornelius, photographs by Adriel Heisey
This Gorge is Gorgeous
In Western Arizona, the Interstate 40 bridge and a railroad trestle cross the Colorado River side by side. The bridges divide two worlds. To the north lies Topock Marsh, an artificially created backwater of tranquil lakes and cattails. To the south lies Topock Gorge, an absolutely beautiful place comprising 20 miles of narrow, twisting river. Either way, the water under the bridges is something special. By Dave Eskes, photographs by Marty Cordano
Departments
The Journal
People, places and things from around the state, including a look at Bisbee's historic Warren Ballpark, a Williams B&B that mixes English charm with Guitar Hero, and the ferocious tendencies of the state bird.
Scenic Drive
Perkinsville Road: Although the last few miles can get a little hairy — no guardrails — this scenic drive offers some great history along with the wow.
Hike of the Month
Rim Lakes Vista Trail: There In addition to the largest ponderosa pine forest in the world, this route offers great views, wildlife and an abundance of ozone.
[DFR::27112-1154-ls|align_left_1]