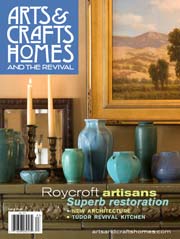 Arts and Crafts Homes and the Revival has released their fall issue for 2008!
Featured Articles
Arts & Crafts in Salt Lake City
An appealing Tudor house (wih a Van Briggle tile fireplace) is nursed back from its disco fever.
Vernacular Strength
The " Adirondack plu" stone and shingle houose called Tallquapie is neither bungalow nor mansion.
The Roycrofters Today
The artisans qualified to use the Roycroft Renaissance mark form an extraordinary, if far-flung, guild.
Replica Kitchen
The ca. 1930 kitchen is perfect for this storybook Tudor house.
A Garden Redefined
A small, dry-climate garden, once inhospitable, gets a practical makeover.
Thatch?
How there comes here, or the impact of Shakespeare on American roofs.
Departments
Pilgrimage
Come to Buffalo, an Arts & Crafts mecca.
The Movement
Architect Gerald Morosco on the A&C revival.
Details
Mica, slag, or slumped—what's that glass?
Bringing It Back
A primer on the era's wood floors, their care and their finishes.
Architecture
What's that Colonial on my bungalow?
[DFR::79084-1154-ls|align_left_1]