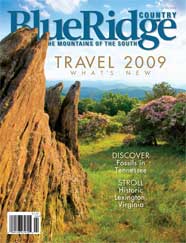 The March/April 2009 issue of Blue Ridge Country magazine has been published. Featured in this issue are articles on dowton Lexington, Virginia, three national parks, gray fossils, Miss Lucy Morgan, Remarkable Trees of Virginia, and clean rivers.
Downtown Lexington, Va
Explore small-town shopping and Civil War history.
Rich history runs through the walls of old buildings downtown and walks with visitors in the aged brick that lines the sidewalks, some of it the same that Civil War generals trod on. Small-business owners greet travelers and locals in their shops and restaurants; paintings of Shenandoah Valley scenery hang in gallery windows, created by artists in surrounding Rockbridge County. College students from Virginia Military Institute and Washington & Lee University frequent the streets.
Several bed and breakfasts skirt the edge of town, and Llewellyn Lodge was home base for our trip, less than a 10-minute walk from Lexington's historic attractions.
75-year Milestones
Three national parks prepare to celebrate major anniversaries in three consecutive years.
It is a misty gray afternoon, the fresh spring leaves of tulip trees and chestnut oaks saturated with the moisture that is so common in these mountains, wisps of fog curling around arching rhododendrons and moss-covered boulders. The trail rises steadily before me, as my hiking boots suck and release the sodden soil. I try to put some space between myself and a pair of equipment-laden magazine photographers, inhaling the thick, wet air as I take in the scenes and scents of one of my favorite Smoky Mountain hiking trails – to Grotto Falls.
This is the fourth time I have hiked this trail in the last 10 years, and it looks much the same save for the skeleton wreath of needles on still-standing hemlocks that once densely shaded the path here and arced over the tripping streams found along the way.
"Are you sure this hike is only two miles?" one of the photographers calls to me from down the trail, scurrying to catch up.
"Only two," I call back and quicken my pace to take in the woods alone. I imagine for a moment what this forest was 75 years ago when the Great Smoky Mountains National Park was founded, designed, like its sister Shenandoah, to be less than a day's drive for half the population on the east coast. I am only one of millions who have come to take refuge in the great parks of the southern mountains.
Gray Fossil Site
Pot-bellied rhinos, tapirs, red pandas and alligators. Badgers, peccaries, short-faced bears, sabre-toothed cats and ground sloths. Camels without humps and three-toed horses the size of dogs.
Not the kind of animals you'd expect to encounter a couple of miles off I-26, midway between Kingsport and Johnson City, Tennessee.
Yet 4.5 to 7 million years ago, that's exactly who was drawn to a watering hole, and whose buried remains were accidentally exposed nine years ago during a routine road improvement project.
Miss Lucy Morgan
A woman founded a school and revived a lost art in the midst of the Great Depression.
Miss Lucy, as she was known to the many students, teachers, and friends who loved her, did not look the part of a mover and shaker, but she was. In fact, she was almost single-handedly responsible for the revival of hand-weaving in America.
"She was short and petite, and she always had this little loom with her, and her hands were always busy," says Morgan's grand-niece Susan Leveille, a weaver herself in Dillsboro. "She had a twinkle in her eye and was full of life. She was always flitting around. That was the family way."
Photography
Book feature: Remarkable Trees of Virginia
In a new book, author and lecturer Nancy Ross Hugo, Virginia Tech Department of Forestry extension specialist and professor Jeff Kirwan and photographer Robert Llewellyn beautifully document the oldest, tallest, most historic and best-loved trees in the Commonwealth.
From the Introduction
Trees aren't the only things that sometimes get bigger than you thought they would. When Jeff Kirwan and I launched the Remarkable Trees of Virginia Project in 2004, we conceived of a book that would celebrate some of Virginia's finest trees and a website through which people could nominate their favorite trees. Neither of us had any idea we would be sorting through over 1,000 tree nominations and traveling over 20,000 miles to see trees.
Guest Columnist
Mary Anne Hitt
Clean Rivers and Childhood Lessons
When i was a girl growing up in the Smoky Mountains of east Tennessee, my sister and I would spend endless hours on the rivers – the Middle Prong of the Little Pigeon, the French Broad, the Little River – swimming, fishing, tubing and doing nothing in particular. Those rivers not only kept us busy and out of trouble, but they also instilled in us a deep love of our mountain home.
The only dangerous thing about the rivers in those days was the occasional piece of broken glass or rusted metal lurking on the bottom. I never understood why some neighbors used the streams as their personal dumping ground for old appliances, bottles and cans, but we joined other neighbors in hauling the trash out of the river.
[DFR::53086-1154-ls|align_left_1]