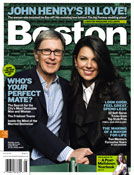 The Boston magazine has published its May 2009 issue. Featured articles in this issue are Red Sox owner John Henry and Linda Pizzuti, Tom Menino, Tom Garcia, Jack Williams, and what turns us on.
The Owner Takes a Wife
Buttoned-down Red Sox owner John Henry revealed a very different side of himself during his topsy-turvy courtship of Linda Pizzuti. (We've got the soul-baring e-mails and love-struck vacation photos to prove it!)
Feature
Generation WTF*
You come to Boston, Collegetown U.S.A., at the peak of the boom. You graduate this month just as everything's gone…
The Making of a Mayor for Life
As Tom Menino closes in on becoming our longest-serving mayor, it's easy to forget what he did to get the…
The Theory and Practice of War
Tom Garcia wants to sleep. It's hot inside 70 pounds of gear and body armor, and the Humvee rumbles a…
Top of Mind: Jack Williams
Anchorman, adoption advocate, penny pincher, smart aleck, last of his kind, age 65, Weston…
What Turns Us On
A User's Guide to Love and Lust in the Hub  
Connoisseur
Kick That Hired-Help Habit
Twenty-two penny-wise tips on looking good and feeling great for a fraction of your budget.
The Consumer Index: May
What the Connoisseur staff is buying, wearing, eating, watching, reading, coveting, craving, fetishizing, and otherwise obsessing over this month.**Trust us….   
Connoisseur: Style
Fashion Masochist:
Circus Workouts
Acrobatic exercise is on the upswing. Alyssa Giacobbe investigates fitness on the fly.
Taking Inventory: The Other Shoe Drops
Beacon Hill footwear boutique Moxie steps into the suburbs.
The Hunt: Lights! Planters! Dacron!
From all-weather sofas to futuristic gas grills, we've got your backyard.
Connoisseur: Cultural Affairs
Genius, Explained: Paris, Milan, Londen…Lowell?
A dusty mill town gussies up its legacy as a one-time fashion hotbed.
Import/Export: Dances with Stars
Boston Ballet choreographer Jorma Elo takes his place on a bill with the greats
Maven: May: Jody Adams, Chef de Tango
When she's not in Rialto's kitchen slicing up shallots, the queen of Italiancuisine can be found cutting a rug on…
The Omnivore: Musical Exchange Program
Foraging for Tasty Arts Tidbits
Connoisseur: Food and Drink
Dining Out: Bina Osteria
Pristine ingredients and solid technique keep this dazzling new Italian eatery anchored, even when showy flourishes miss the mark. (And…
Menuology: Come for the Salmon, Stay for the Samlar
A globetrotting chef tries to square Eastern flourishes with MetroWest palates.
 
Mmmm…Tangy Fro-yo
Four years after Pinkberry began blanketing the West Coast in 100-calorie desserts, frozen-yogurt options are multiplying around Boston like lactobacilli…
The Haunt: Green Means Go
Paul Flannery hails the sham-free shamrock vibe of Cambridge's Plough & Stars.
The Ultimate: Guacamole
We got into the thick of it to find the creamiest, chunkiest (not to mention tastiest) avocado dip out there.
Examiner
City's Top Cop Looking Blue
As the recession squeezes his budget, Ed Davis picks his battles.
Person of Interest: Peter King
Sports Illustrated Scribe, Not-so-Phantom Gourmet
The Argument: The Prep Gets the Last Laugh
Forget what you think you know about whale belts and popped collars. Why now more than ever New England's singular…
Other
Exhibit B: Landmarks Hero Squares
Driving through Boston, it can seem that every other intersection you pass is named for someone you've never heard of….
 [DFR::510312-1154-ls|align_left_1]