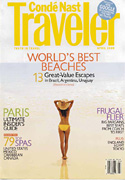 Condé Nast has released the May 2009 edition of Condé Nast Traveler Magazine!
Cruising Europe: Places and Prices
Destinations: Croatia, Dubrovnik
Turkish Delights: Istanbul's Places & Prices
Joan Juliet Buck and Esin Göknar pick and choose among Istanbul's cornucopia of treasures.
Naples
Though this historic seaside gem is awash in character, its gritty image keeps many visitors away.
Mexico City
This Latin American megalopolis has been a thriving center of arts, commerce, and culture for more than 700 years.
Jakarta
Indonesia's vibrant capital offers some of the best shopping, dining, and nightlife in Southeast Asia.
Johannesburg
This city of 2.5 million is a burgeoning cultural capital emerging from the dark days of apartheid on the strength of its diversity.
New Orleans
This city on the Mississippi has taken its knocks, but for three centuries the music—and the party—have rarely stopped.
Istanbul's Lush Life
It's modern and Muslim, European and Asian, cutting-edge and conservative—and though at least two millennia old, thrillingly hip. Joan Juliet…
Ultimate European Cruise
Oh, the Places You'll Go! Adam Platt boarded what may be the world's most luxurious passenger ship in Venice, bound for Athens by way of Dubrovnik…
Ombudsman: Run for the Money
Problems arise when a couple try to get repaid after canceling a hotel booking.
Summer Sale Finder
Great deals on hotels and air travel are heating up—but only in certain places. Here's where to find the best travel values in years.
Bogotá
This walkable metropolis of seven million is once again reclaiming its role as Latin America's intellectual and cultural hub.
[DFR::104712-1154-ls|align_left_1]