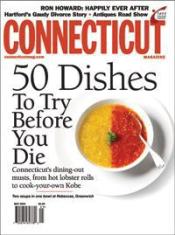 Connecticut magazine has released their April 2009 issue. Featured in the magazine are articles on mom's who band together, private schools, outdoor living, and Connecticut travel.
Angry Moms
From greener soccer fields to safer toys and cleaner drinking water, Connecticut moms who band together have been able to make big impacts on their communities when necessary.
Private Schools: Are They Worth the Money?
To ensure their children get what they perceive as the best possible education, many parents are willing to pay hefty tuitions for private schooling. Quite often, they get what they desire — more diverse curriculum, smaller classes, greater individual attention.
Connecticut Home: Outdoor Living
We look at the latest trends in outdoor living for your home, from pergolas and canopies to all-weather furniture and grills.
Connecticut Travel: Triple Plays
Oftentimes, a choice of travel destination comes down to a "triple play" of factors: where to stay, where to eat and what to do. We visit six spots in Connecticut that offer all three in spades.
Special Section: Top Docs
This year in our exclusive survey, we list over 600 physicians in 24 different specialties who were recommended by their peers.
Columns And Departments
Lary Bloom's Notebook
The University of Connecticut's masters program in Homeland Security Leadership is unique in its focus: getting inside the mind of a terrorist.
First
The importance of a conviction in the Eddie Perez corruption case, profiles of actress Lauren Ambrose and author Tony Abbott, the rivalry between the state House and Senate, and more.
This Month
The monthly assortment of plays, shows, exhibitions, fairs and events as well as guitarist Leo Kottke, the Litchfield Writer's Project and the art of Nelson White.
From the Field/Everywhere Bears
The number of bears in Connecticut has been increasing, as have the challenges in ursine relations — they're not just after picnic baskets, Boo Boo.
The Connecticut Table
The food is as exciting as the nightlife at 116 Crown in New Haven and Shrine in Mashantucket. Plus chef du jour Noel Jones, Table Talk and the state's most comprehensive dining guide.
Being There
Making a pilgrimage to the shrine at Lourdes in Litchfield.
[DFR::513112-1154-ls|align_left_1]