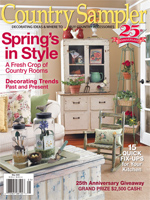 Country Sampler Magazine is out with its latest edition, this one features fresh ideas for spring decorating!
What's the Big Idea?
An innovative homeowner walks the line between past perfection and a hint of the future with simple touches and big statements in her Oregon farmhouse and outbuilding. Keep It Clean: Introduce clean-lined country style to your abode with these hints for honing a pared-down, liveable look.
Feeling Right at Home
With an eye for Colonial style and a knack for handcrafting country accents, a Wisconsin artist renews her 1950s Cape Cod by overhauling several spaces and adding Early American touches. A Work of Hearth: Find out how to transform an outdated hearth and fireplace into a fabulous focal point.
Rustic & Refined
Old-fashioned flair and modern conveniences influence the design of a custom-built Washington home inspired by the owners' previous Arts and Crafts bungalow. Textured Touches: From wall treatments to furnishings and accessories, work texture-rich features into your home to create an invitingly rustic atmosphere.
Out with the New, In with the Old
A Michigan antiquer with an eye for primitives transports her 1970s home back to the past with plentiful collections, nature-made decor and a rustic country palette. Decor You'll Simply Dry For: Learn dried-and-true techniques for preserving gourds, pineapples and other produce and creating natural garlands and bowl fillers.
Columns
Antiques Q&A
Our experts look into the history and value of a whole flock of interesting spring-themed antiques, including a chalkware blue jay, a Limoges creamer and sugar set, and a vintage chrome birdcage and stand.
Country Trends
In celebration of our 25th anniversary, we look back at the trends that shaped Country Sampler style, from color palettes and furniture styles to lighting and favorite motifs.
Decorate with Crafts
Cook up some cheer in your kitchen with 15 inspiring ideas from the Country Sampler stylists for infusing country and vintage style into the hub of your home. Click here for a sneak preview!
Win! 25th Anniversary Contest
We're celebrating our anniversary all year long! Enter now for your chance to win $2,500 in cash or one of our special commemorative prizes.
Craft Fair Online
Our Craft Fair offers you one-stop, hassle-free shopping for home and garden accessories, furnishings and patterns.
[DFR::11416-1154-ls|align_left_1]