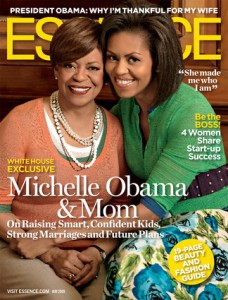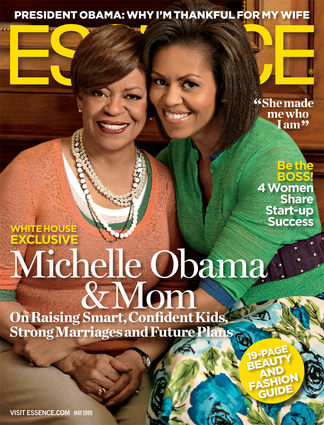 The May 2009 edition of Essence Magazine has been printed!
FEATURES
A Mother's Love: First Lady & Mom
In an exclusive interview with ESSENCE Editor-in-Chief Angela Burt-Murray, First Lady Michelle Obama and her mother, Mrs. Marian Robinson, speak on raising smart, confident kids, strong marriages, and future plans.
Thank You, Mom Showing our  appreciation for the woman we call Mama
Tropical Punch Embark on a fashion trip to paradise this spring
The Good Fight A man of faith battles corporate giants for his neighborhood's health
The Green Awards In recognition of the activists working to improve our environment
BEAUTY
Color Decoded: Standout shades
Strands: Updos, mohawks and pompadours, from edgy to elegant
Fab in a Flash: Mikki gets au naturel with guest editor Kerry Washington
Best Sellers Top eco-friendly beautifiers
FASHION
Looks We Love: Shift into neutrals
Perfect Fit: Asymmetrical frocks offer a new slant on style
Accessories Down-to-earth gear
Cheap & Chic: Green-inspired fashions for less green
CULTURE
Essence Ultimate Summer Movie Preview: From action and animation to comedies and thrillers, we give you the lowdown on this film season's flicks  
Gazette: In case you missed 'em, highlights from the indie film world; a bout of festival fever and Chris
Rock's award-winning hair tale
Books: Helpful tomes good for all ages; Farai Chideya offers to Kiss the Sky for our next book club selection and more
WORK & WEALTH
Be Your Own Boss Why your future might be in franchising 
Money Makeover: She's divorced, in debt and hoping to retire by 2013
Your Money: Nine easy steps to turn your home into a green house 
Working Smart: Broaden your outlook on what it takes to get ahead
Tanisha's Tips: Understand your refinancing options; steals and deals
BLACK MEN, SEX & INTIMACY
What Men Think: H-town hotties debate whether cheaters deserve a second chance
Tell It Like It Is? Actress Niecy Nash says keep the awful truth to yourself
Oh, Brother: Finesse believes nice guys aren't for everybody
OUR NEWS
Ten Things We're Talking About
Time for a Change: Kerry Washington issues a plea to save the planet
HEALTHY LIVING
Sexual Health Special: We weigh in on medical advances in the reproductive field, birth control concerns and how to maximize your next trip to the doctor
Fit & Fab: How one woman became half her size without surgery, medication or extreme dieting
Organic 101: Are organic foods the best choice for you and your family?
Take 5 Honoring the mother in you
How She Does It: A parent of two toddlers successfully shares her home and her office with her hubby
Healthy Food Fast: Wholesome meals can be affordable and delicious
[DFR::154512-1154-ls|align_left_1]