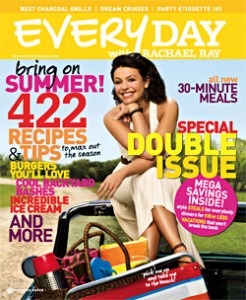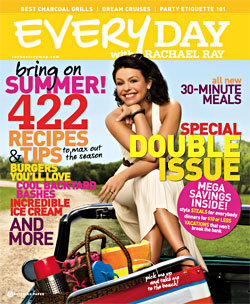 The June/July issue of Everyday with Rachael Ray magazine has been published. Featured in this issue are wedding centerpieces, Rach's Wedding, Summer Fruits & Veggies, recipes, and summer cookout.
Wedding Centerpieces
These easy DIY centerpieces from some of our favorite designers are great for any wedding, and will save you serious cash!
There's no reason to hide your mismatched stemware in the back of the cabinet anymore! With just a few flips of the glass, designer Annie Selke—owner of home furnishings company Pine Cone Hill —created a modern candle-and-flower arrangement that we're just crazy about for an outdoor warm-weather wedding. Her idea: Place your goblets upside down on a table, tuck large blooms underneath and top with colorful votives. It may only take a few seconds to pull together, but the elegant impact will last all night.
Rach's Wedding
Check out behind-the-scenes photos of Rach's big day.
Summer Fruits & Veggies
Now's the time to head to your local farmer's market for the freshest, tastiest seasonal ingredients. Most of what you pick up will be delicious on its own, but these recipes—some of our summer faves—will really make your produce pop.
Tips:
Pat strawberries dry with paper towels right after rinsing, or they'll absorb water and lose flavor.
Slice and freeze fresh peaches or other stone fruit and use instead of ice cubes in lemonade.
To finely shred zucchini, place in a food processor and pulse.
You can easily seed a cucumber using a melon baller or a spoon.
Ripen tomatoes by storing them in a paper bag on the counter for a couple of days.
Good For You
Lighten up! We've downsized your favorite recipes to make them figure-friendly—your waistline (and tastebuds) will thank you.
Fish 'n' Chips'
Huevos Rancheros
Lean, Mean Meatloaf
Double-Chocolate Pudding
Firecracker Enchiladas
Breaded Pork Chops with Sage Cream Gravy
Salmon Cakes
Skirt Steak Sauerbraten
Many More
Summer Cookout
When the weather's warm and the days are long, we think: cookout! Fire up the grill, invite your gang over and serve up a spread of barbecue-friendly food, like burgers, ribs and chicken, along with all the fixings. We've got great recipes, how-to grilling videos, party ideas and more. (P.S. No grill? Lots of these recipes are delicious without!)
All-American BBQ
Birthday Barbecue
Cowboy Cookout
Block Party
Pool Party
Alfresco Fiesta
Summer Picnic
Summer Cocktail Party
[DFR::777110-1154-ls|align_left_1]