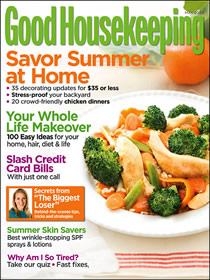 The latest edition of Good Housekeeping has been released! With the latest downturn in the economy, Good Housekeeping is providing solutions, this month, to homemakers on ways to save, relax, and enjoy life.
Savor Summer at Home
This may not be the economic moment to overhaul your home with a big-ticket, floor-to-ceiling remodel, but don't let that fact stifle your enthusiasm or squelch your creativity. Make just a few seemingly small changes and rooms will suddenly seem richly reinvigorated.
* 35 decorating updates for $35 or less
* Stress-proof your backyard
* 20 crowd-friendly chicken dinners
Your Whole Life Makeover
100 Easy Ideas for your home, hair, diet & life
Slash Credit Card Bills
With just one call
Secrets from the Biggest Loser
Weight-loss woes? You're not alone. Four of The Biggest Loser contestants share their diet difficulties
Summer Skin Savers
Best wrinkle-stopping SPF sprays & lotions
Why Am I So Tired
Take our quiz * Fast fixes.
[DFR::194512-1154-ls|align_left_1]