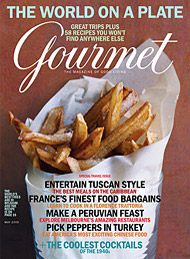 Condé Nast has released their May 2009 issue of Gourmet. Featured in this magazine are articles on Melbourne, Australia; Turkish chili peppers; Charleston, South Carolina; and Dordogne, France.
The Melbourne Supremacy
Move over, Sydney. Austrailia's second city is gaining ground as the country's culinary capital.
On the southern banks of the Yarra—the muddy river that flows slowly through the heart of Melbourne—a modern saga is unfolding. It's an entertainment complex called Crown. Vegas in microcosm. Along with the hotels, shops, bars, nightclubs, and, of course, Crown Casino—the jewel in the revenue tiara—the landlord is remorselessly driving a swath of restaurants upmarket and kicking out any tenants who can't live up to the place's blue-chip image.
In 2006, Neil Perry became the first big-name Australian chef to open a restaurant at Crown with the launch of Rockpool Bar & Grill. It's been a critical and commercial success, and the food—some of the country's best seafood sharing equal billing with grass-fed, dry-aged steaks—is terrific. The following year, Crown reveled in the prestige of having its own Nobu, a first on this side of the world. But despite the hype, the multimillion-dollar investment, and the visits by Nobu-san, Robert De Niro, and friends, Nobu has faded from the town's dining spotlight faster than an aging starlet after a face-lift gone wrong. It will be interesting to see what happens when Crown gets its very own Gordon Ramsay outpost next year, also a first in the Southern Hemisphere.
The Heat of the Matter
In a sun-soaked valley in southern turkey, hospitality still rules and chile peppers are a constant presence in people's lives.
It's dusk in Sanliurfa, 30 miles from the Syrian border in south-central Turkey. From our hotel terrace, we watch birds glide through the apricot-gold light that slants onto the building below, a shrine to the birthplace of Abraham. The first notes of the call to prayer float up to us, a single voice becoming a syncopated cacophony as a dozen muezzins from other mosques join in. This moment, I think, is why I love Turkey. Okay, maybe this moment and the food. In fact, I could swear I detect on the breeze the slightly harsh, sweetly vegetal aroma of the peppers that brought me here.
These are not just any peppers. They are, you might say, an obsession. And obsessions are unpredictable. Sometimes one springs full-blown into your consciousness; at other times, it grows slowly, almost unnoticed, until a friend says to you, "Do you have to put those Turkish peppers on everything?"
Lowcountry Rising
Beyond the picture postcards, Charleston is a lovely port city that's fast on its way to becoming a serious food capital.
In late October, Charleston, South Carolina, was in the throes of a charcuterie revolution. Of course, it was possible—easy, in fact—to find fried green tomatoes, fried oysters, and fried flounder, too, but plates of house-cured meats were featured on a few of the more daring restaurant menus around town, and they were causing some excitement. Not along the lines of, say, girls at The Citadel or that serious commotion at Fort Sumter in 1861, but excitement just the same. Change comes slowly to the South.
In Charleston sitting rooms, you can still hear the Civil War referred to as the War Between the States, and homeowners can be reprimanded by historical fundamentalists for veering a few shades away from the original paint color on the exterior of their antebellum mansions. Yet somehow, in an enduring swell of proud preservation (from the pre-Revolutionary Powder Magazine, one of the oldest fortifications in the 13 colonies, to the scholarly and modern Charleston Renaissance Gallery), the city's culinary heritage was besmirched, or at least belittled, by popular demand. For fried fish.
In The Night Kitchen
When dusk falls on the Dordogne's farmers markets, rather than pack up their produce and head home, the area's artisanal purveyors
The best way to get a parking spot at the night food market in Audrix, in southwest France, is to drive up to the tiny village in a Citroën 2CV. The ancient cars—an aggregation of tin cans and elastic bands first produced in 1949 to carry a farmer, his wife, two children, and a dairy churn over plowed fields without spilling a precious drop of milk—are so beloved, the French treat them like pets.
Although I had the Dersh—as the Deux Chevaux, or two-horsepower Citroën, is fondly nicknamed—the only spot, if it could be called that, was a very small gap between a foreigner's rented automobile and a pack of motorcycles. I nosed alongside to measure the distance. A passing villager set down his basket and gave a peremptory wave: "Descendez." I turned off the replacement bathroom light switch that operates my car instead of a key and obeyed. He gave another wave to his son. Together they picked up the Dersh and dropped it into the one space the night market had to offer.
Ruth's Favorite May Recipes
View the ten dishes from our May issue that our editor in chief can't stop thinking about. We're pretty sure they'll captivate you, too.
Peruvian Rice and Lentils (Tacu Tacu)
Jamaican Beef Dumplings
Tuscan Beans in Summery Tomato Ragù
Strawberry-Vanilla Swirled Frozen Pops
Sake Sea Bass in Parchment
Fresh Pasta with Crabmeat, Peas, and Chile
Périgord Walnut Tart
Lemony Risotto with Asparagus and Shrimp
Tortilla Chicken Drumsticks
Savory Parmesan Pain Perdu with Poached Eggs and Greens
Great Meals: Just Add Water
The most enchanting memories of this laid-back Caribbean sail came out of Sam Malone's postage-stamp galley.
[DFR::195612-1154-ls|align_left_1]