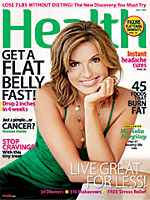 Health magazine has released its May 2009 issue. Featured in this issue is Mariska Hargitay, an oft interviewed celebrity by Health, and her advice on making time for yourself. Also featured are articles on the right food to eat to burn more fat, America's healthiest hotels and pets, and how to pick a pedometer.
Mariska Hargitay on Making Time for Yourself
This is someone whose advice you can trust: Hargitay makes it look easy as she deftly juggles 15-hour days on the set, marriage (to actor Peter Hermann), motherhood (to 2 1/2-year-old son, August), and her nonprofit organization, Joyful Heart Foundation, which helps empower survivors of sexual assault, domestic violence, and child abuse.
Eat This and Burn More Fat
You know how to eat healthy, but do you know how to blast fat while you're doing it? We've used emerging science about the foods that fight fat—ingredients with resistant starch, monounsaturated fatty acids (MUFAs), fiber, conjugated linoleic acid (CLA), and more—to create great-tasting combos that help flatten your belly … and trim the rest of your body, too!
America's Healthiest Hotels
Whether hip, boutique-style lodgings or old-faithful chains, these picks serve up what you deserve: a truly rejuvenating stay that's worth your hard-earned money. And with all these inviting, back-sparing beds, you may have to refrain from jumping.
America's Healthiest Pets
A wealth of studies suggests that pets are good for your health, sometimes in unexpected ways. The right pet can lower your risk for heart disease, curb stress, and even sniff out serious illnesses. We asked three animal authorities to dig into the research and cough up America's Healthiest Pets.
How to Lighten Up Party Food
Make appetizers healthier by lowering their fat and calorie content with these key tweaks.
Attention Walkers: How to Pick a Pedometer and Plot Your Route
Here are some of our favorite pedometers on the market, for every price point and fitness level.
How to Keep Food Cravings at Bay
Even with a solid plan like Feel Great Weight in your corner, you're going to face a few challenges along the way—"like red velvet cake," agrees AJ Cook, who freely admits to longing for the sweet treat. Just follow this expert weight-loss advice, and you (and AJ) will be able to catapult over any food yen.
Girls Gotta Move Running Club
Whether you've run a marathon or you're lacing up for the first time, Girls Gotta Move is your one-stop destination for training tips, running events, and moral support. Join the club and get started enjoying the benefits today.
Meet the Members of Our Health Expert Network
Introducing the pros we turn to for all your health needs-from A to Z.
[DFR::207010-1154-ls|align_left_1]