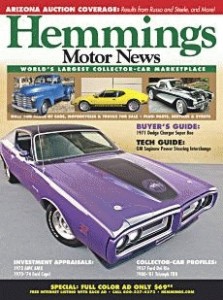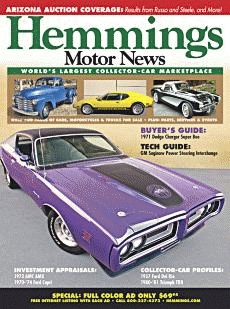 Hemmings Motor News has released its latest issue! Featured in this issue are 16 pages of readers restoration projects, photo of an 8 wheel ambulance in 1928, Georgetown Texas Area Car Club show, Studebaker, and other great articles.
Reader Restorations
Garages throughout America and Canada, as well as those belonging to our friends in Europe, are humming with activity, as proven by the 34 restoration profiles shown on these 16 pages. From basic repaints to multi-year, body-off restorations, enthusiasts everywhere are making their dreams come true by building the cars they always wanted to own.
Lost & Found
To our knowledge, and consciously excluding military trucks, the only eight-wheeled automobiles built were some oddball Japanese supercar and the Reeves Octo-Auto. That was, until we received this photo from reader Mike Rettie of Alameda, California. Mike writes, "The negative was found in the estate of Lewis Clark of Alameda. I scanned it and had friends look at it for possible ID. Plate is California, 1928. Photo taken in front of side door of the Palace Hotel in San Francisco. Someone out there knows what this is, but not me."
Club News:
The Georgetown Texas Area Car Club (GTACC) car show is having fun and doing good at the same time: Raising money for their scholarship fund is just as important to the GTACC as showing their cars, and last year, more than 1,000 people came out to make the Georgetown show (just north of Austin) a huge success.
Studebaker Loss and Legacy
One question people ask me more than just about any other is "Why did Studebaker go out of business?" There are a lot of opinions. Some folks think the failure of all the independents was inevitable. Others believe the Big Three deliberately drove Studebaker out of business. A few armchair analysts have even put forth the idea that Studebaker was a backwards company that made cars no one wanted to buy.
Special Feature: SEMA 2008
When you think of the big SEMA convention, it's usually visions of custom hot rods, colorful street rods, modified muscle cars and wild sport compact cars that flit before your mind's eye. But there's also a fairly large presence of parts manufacturers who focus solely on bringing formerly unavailable body and trim parts back into production.
Strangled by Success
Luxury with a racing link, the Model K had it all… You don't throw a big party and expect nobody to show up. Just like you don't dump a ton of money into winning a globe-spanning automotive endurance race over nonexistent roads, promoted by two of the world's largest newspapers, and not expect to make a killing in sales afterward.
Peculiar Fishbowl
A 1977 AMC Pacer pulls its weight–and then some… Imagine, if you will, a cross between a Porsche 356 and a Valiant station wagon. In your mind's eye, well, the result likely deserves euthanization, but to Buddy Turner, the result was not only his ideal automobile, but also exactly what he discovered in 1977 at the AMC dealership in Marietta, Georgia. That's when he first realized that he needed to buy a Pacer.
Airstream Keepsake
Twice forgotten, a 1936 De Soto sees the light again… Think "barn find." What springs to mind? An abandoned auto, in pristine condition, tucked away in some forgotten corner, just waiting to be rescued. It doesn't matter what type of car it is–a Classic, a Fifties cruiser or a monster-cube muscle car–the barn find is a common dream among experienced and novice collectors alike. Most remember what happened after its rediscovery, but rarely does anyone recall the events that placed the vehicle in hibernation for decades. One of those unusual exceptions is Denny and Melissa Aungst and their 1936 De Soto Airstream.
History of Automotive Design
Pininfarina wooed Cadillac with the unique Jacqueline… In all their long and illustrious histories, the names of Cadillac and Pininfarina have seldom been intertwined. In fact, it wasn't until the Allanté roadster of 1987 that a production car would wear the badges of both the Turin carrozzeria and the Standard of the World, and the two companies have yet to collaborate again.
Auto Art
Troy Paiva lights up the night… Some critics may insist that no amount of studied technique and talent can elevate photography to the realm of fine art, because those naysayers think that lining up a shot and clicking the shutter is all that this medium requires of its creator. For the last 20 years, California native Troy Paiva has been carefully crafting often-surreal light-painted night photography, and the legions of enthusiasts who follow–and emulate–his groundbreaking work would argue otherwise.
Books & Literature
Model A ads; disappointing GM design overview… Rarely will a two-star rated book be worthy of the Featured Title selection, but few books are produced with such high print quality as this. But remember that old racing saying, "all show and no go"?
Small Cars
Hot-hued Henry J; stunning 1971 Cutlass Supreme… Most. Fantastic. Automotive. Color. Ever. We're still catching our breath after spotting a Kaiser Traveler wearing Indian Ceramic at the Old Westbury, New York, show last year, and now here's this primo Henry J in the same shade. This is from the Platinum Collection, Sun Star's vaunted premium line, which delivers famously. The little flathead straight-six and its bay look terrific, with scissor hinges, braided cabling and a delicate prop rod. There's a separate under-dash heater, a jack and tools in the cargo area, and exquisite underbody detail that includes a clutch cable. Latch detail is cast into the doorjambs and the interior looks flawless–probably better turned out than a real Henry J's. It's just the ticket for the independent nation.
Mechanical Marvels
Vaporization issues heat up… Rudolf Diesel invented the compression ignition engine in 1897. Shortly thereafter, advances in the refining industry produced gasoline–but not in its modern form. Back then, gasoline was basically a derivative of kerosene, a waste byproduct of early oil refining. It was considered a nuisance and was disposed of by being dumped onto the ground or into rivers. Soon, however, inventors recognized that gasoline's high energy potential made it an ideal fuel, something that could advance engine development. There was a problem, though: Gasoline does not burn in liquid form. It needs to be atomized, emulsified and vaporized to ignite. This means it must be broken down into small particles, be mixed with air, and undergo a phase change through heat. The carburetor's job is to accomplish the first two steps, while a process called the latent heat of vaporization takes credit for the last step.
Robert L. Clary
From tree to car, Robert Clary steers the patternmaking process… When Robert Clary went into business for himself in 1972, he had boxes of business cards printed up. In 2008, when he rearranged his shop, he threw out every single one. Not once in 36 years did he need to hand one out. In fact, it took us a year and a half to get him to agree to a profile, and that was only after early Olds specialist Joe Merli, for whom he'd patterned a flywheel and other parts (HCC #35), talked him into it. Heading gradually toward retirement (he's cut down to a four-day week), Bob turns away business today.
Pioneers
Joseph W. Frazer left a series of successes in his wake… Put yourself in Henry J. Kaiser's shoes. After historic success building dams, cargo ships, roads and communities, Kaiser decided to expand into building automobiles after the end of World War II. The car-starved United States burst with anticipation at the news that Kaiser, then the best-known living American, was even thinking about the car business. Before Kaiser could single-handedly revolutionize the industry, however, he needed a hand in place who really understood its workings. That partner turned out to be Joseph W. Frazer and, had a few events gone down differently, their auto company might have survived and succeeded.
Buyer's Guide
Don't overlook a stylish 1958-'60 Lincoln Continental… To some, the 1958 through 1960 Lincoln Mark III, IV and V Continentals are under-appreciated middle children, straddling the line between the understated, classic 1956-'57 Continental Mark II and the Camelot-chic 1961 Continental; others consider them the redheaded stepchildren of the 1950s Lincoln line. Whatever your thoughts, there's no escaping these Continentals' advanced unit-body design, massive stretch-out room and distinctive styling. With prices on their forebears and followers rising by the day, now is the time to aim for middle ground and pick up a 1958-'60 Continental.
Rear View Mirror
1913: Grand Central Terminal opens; Federal Reserve established… The Model 37's 280.6-cu.in., 37hp side-valve four-cylinder engine, which is supplied by Continental, will make its last appearance in a Hudson in 1913, after which all Hudson cars will sport six-cylinder power. The Model 37 is available in five variants, with the five-passenger touring car fetching $1,875, a veritable bargain compared to the $2,450 its Model 54 equivalent commands, despite its having standard electric starting and lamps and an illuminated dashboard.