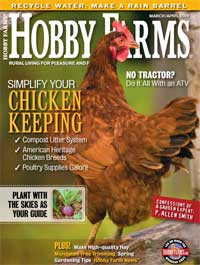 Bow Tie Inc., has released their second edition for 2009 of Hobby Farms! In it you'll find articles addressing raising chickens, hens, creating a sustainable farm, quality hay, ATV's and UTV's, and using the stars and moons to guide you in your farming.
Scratching the Surface
If you're looking for high-quality, dual-purpose chickens for your small farm, consider these six rare breeds.
Healthy Hens, Healthy Soil
A compost litter system can benefit your chickens and your land. Here's how to put it to work on your farm.
Out of the Garden and on to the Farm
You already know P. Allen Smith for his gardening expertise. Now read about his latest and greatest project, his sustainable farm in Little Rock, Ark.
Mother Nature's Planting Guide
For centuries, agriculturalists have followed the moon and stars to guide their planting efforts. Learn about the logic behind the techniques and put them into practice on your farm.
Get Great Hay
High-quality hay—whether it's grown or purchased— is essential to most livestock operations. Find out the effort that goes into getting great hay. 
All-terrain Farming
ATVs aren't just for recreation anymore. Follow along as one hobby farmer worked his 120-acre property with only an ATV and some key attachments.
Read It & Drive
A roundup of the newest UTVs, ATVs and tractors  for use on-farm, and off. 
Columns
Livestock Q & A
Buying the Farm
Farm Garden
How Do I …Build A Rain Barrel
Food for Thought
Tools of the Trade: Poultry-keeping Equipment
[DFR::65446-1154-ls|align_left_1]