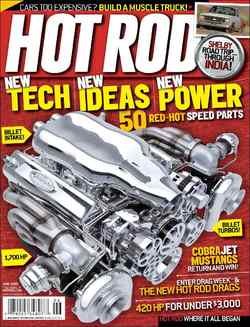 Source Interlink Media has relased the June 2009 issue of Hot Rod Magazine. Featured in this months magazine are articles on a bolt-on Corvette, Detroits job shops, driving Shelby's through India, Cobra Jets return to racing, water injection systems, how to build a muscle truck, and how to get 420 hp for under three thousand dollars.
Bolt-On Corvette
Jeff Schwartz was finally talked into building a nice, bolt-on Corvette for weekend cruising.
Detroit Job Shops
With their OE work slowing down to a snail's pace, Detroit's hottest hot rod shops are looking for your business.
Shelbys In India
Call the loony bin, but we did in fact take a bunch of real, vintage Shelby Mustangs and drive them through India for two weeks.
Cobra Jets Return
Forty-one years after their triumphant debut at the Winternationals, Ford's factory race cars do it again in Pomona.
Build A Muscle Truck
Pickups have V-8s and rear-wheel drive, and they can still be had cheap, making them perfect hot rod material. We build one and race it, showing how to have fun with trucks.
420 HP For $2,996.44
We put last month's dirt-cheap, parts store 350 Chevy back on the dyno with more compression, better heads, and a new cam and kick the grunt up to 420 hp.
Water Injection
Thanks to modern electronics, water/methanol injection is the hottest thing to hit blown/turbocharged engines in years.
[DFR::219012-1154-ls|align_left_1]