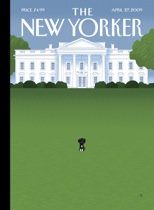 Condé Nast has released the April 27, 2009 edition of The New Yorker Magazine. Featured in this issue is an article on the history of Earth Day in New York, and how it's not the way it use to be. Also featured: Bret Easton Ellis, Philip Howard, and Brain Gain.
In the Air
Earth Day isn't what it used to be.
The Talk of the Town
Yankees For Sale
Opening Day glitz at the new Yankee Stadium.
The Real Bret Easton Ellis
The writer on coming back home to Los Angeles.
Exit Lawyers
Philip Howard and the new American accountability.
Motherlode
A book honoring mom wit.
Onward and Upward with the Arts
The Bells
Harvard and a Russian legacy.
Shouts and Murmors
Amen, Brother
A Reporter at Large
Brain Gain
The neuroenhancer revolution.
The World of Business
The Road Ahead
Is there hope for the American car industry?
Fiction
Pop Music
A Critic at Large
The life of Edgar Allan Poe.
Briefly Noted: "Sonata Mulattica"; "It Is Daylight"; "Inseminating the Elephant"; "The Book of Props."
The Theatre
"Joe Turner's Come and Gone"
"Mary Stuart"
The Current Cinema
"The Soloist"
"State of Play"
Poems
"Let the Record Show"
"Sketch for a Novel"
"A Modern Greek Folk Song"
Critics Notebooks
Adam Del Deo and James D. Stern's "Every Little Step."
"Mahanagar," at Film Society of Lincoln Center.
Pop Notes
Booker T. Jones's "Potato Hole."
Tables for Two
Schnipper's Quality Kitchen
 [DFR::299047-1154-ls|align_left_1]