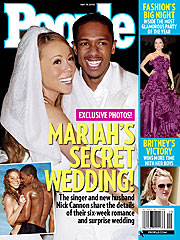 The 4 May 2009 issue of People magazine has been published! Featured articles include interviews or articles on Valerie Bertinelli, Kirstie Alley, Gisele Bündchen, Ryan O'Neal, Kiefer Sutherland, and Oprah Winfrey.
Valerie Bertinelli to Kirstie Alley: Come Work Out with Me!
When Kirstie Alley spotted Valerie Bertinelli's killer bikini body on a recent cover of PEOPLE, "it blew my mind!," the TV star says. "She didn't just look good – she looked stunning! It was inspiring."
And a little ironic for Alley, who confesses to PEOPLE that she has put on 83 lbs. Once a spokeswoman for Jenny Craig, Alley, 58, actually helped bring Bertinelli, 49, on board as a new face for the company in March 2007.
"It's like the student surpassed the teacher, who is now over there in the corner, fat!" says Alley.
Nonsense, Bertinelli tells PEOPLE. Alley's weight gain "is just a bump in the road. Nothing in life goes smoothly all the time," Bertinelli says. She still considers her fellow actor "a mentor and a motivator. She's part of the reason I've come this far."
Now Bertinelli is more than happy to return the favor. "She should come work out with me!" says Bertinelli. "She should remember you can't do everything in one day [and] her exercise has to be consistent. She can do this. There's no doubt in my mind."
What's important to remember, cautions Bertinelli, is that the weight battle is a lifelong process. "I'm still on the journey and still keeping my fingers crossed," says Bertinelli. "I am one jalapeno popper away from gaining 40 pounds. It's not simple! It's something you work on every day."
Gisele: Planning Two Secret Weddings Wasn't Easy
 
So far, so great, new bride Gisele Bündchen says of married life: "I think I'm the happiest person. You know what the secret to being happy is? Being grateful. And I'm very grateful."
Bündchen, 28, who spoke to PEOPLE at a Wednesday gala benefiting the Rainforest Alliance at New York's Museum of Natural History, certainly has a lot to be grateful for – starting with her new husband, New England Patriots quarterback Tom Brady, 31.
She admits pulling off two top-secret weddings – a Feb. 26 ceremony at a Catholic church in Santa Monica, and a second fete at her Costa Rican vacation home on April 4 – was no easy feat. "We tried very hard to keep it private. Oh my God, you have no idea how hard that was," Bündchen said with a laugh.
Yet it was worth it. "Yes," she said, "we had a great time. I think we were very lucky."
People Exclusive Ryan O'Neal's Heartbreak over Critically-Ill Farrah"
In an exclusive interview with PEOPLE, an emotional and often teary-eyed Ryan O'Neal spoke for the first time about the devastating illness of his longtime partner, Farrah Fawcett, who has battled cancer for the past two and a half years.
"It's a love story. I just don't know how to play this one. I won't know this world without her," O'Neal, 68, says of his current role as caretaker. "Cancer is an insidious enemy."
Revealing for the first time how the anal cancer long ago spread to other parts of Fawcett's body, including her liver, O'Neal says, "She stays in bed now. The doctors see that she is comfortable. Farrah is on IVs, but some of that is for nourishment. The treatment has pretty much ended."
Update Report: Kiefer Sutherland to Surrender to NYPD over Scuffle.
Although Kiefer Sutherland is reportedly looking at only a minor assault charge for his alleged scuffle in New York this week – he is due to surrender to police in Lower Manhattan Thursday, say local news reports – authorities in Los Angeles may come down even harder on him.
Sutherland, who's currently serving a five-year probation term in Los Angeles for his second DUI conviction, may have violated those terms, which clearly state the actor must "obey all laws."
"Our office intends to contact the NYPD and New York prosecutors to review the incident and determine whether Mr. Sutherland violated probation," L.A. City Attorney spokesman Frank Mateljan tells PEOPLE.
A probation violation often means a return to jail. Sutherland previously spent 48 days in jail on the conviction.
Oprah Helps Fuel Chicken Run
Cluck, cluck. Customers found themselves out of luck after showing up for free meals at a New York City KFC – part of a promotion touted by none other than Oprah Winfrey. Feathers were definitely ruffled when the fast-food chain ran out of its new grilled chicken, but reactions never got as hard-boiled as rumored.
"Some customers were upset because they couldn't get their chicken, but there was no riot," KFC spokesperson Laurie Schalow assured the Associated Press after reports of a scuffle surfaced on the Web.
Coupons for the special offer were made available on Oprah.com for 24 hours beginning Tuesday after Winfrey announced the deal on her show. Each downloadable coupon is good for two pieces of grilled chicken, two sides and a biscuit.
[DFR::324553-1154-ls|align_left_1]