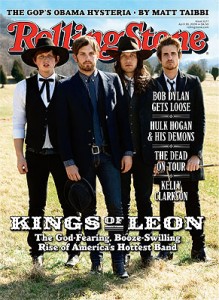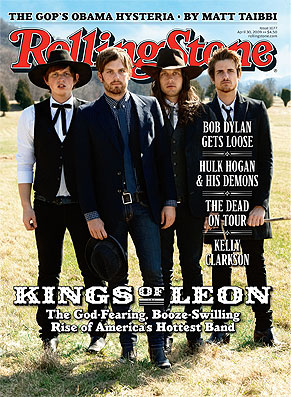 Rolling Stone's latest edition 1077 takes an inside look at the "Kings of Leon" band, Paul and Ringo's reunion, 2009 Hall of Fame, The Grateful Dead, Bob Dylan, Kelly Clarkson, and Hulk Hogan. Is the Hulk down and out?
Kings of Leon Raise Hell
They grew up traveling the South in the back of an Oldsmobile with their Pentecostal-preacher father, and now they're selling out arenas and living the high life. The inside story on America's hottest band.
The Republicans' Bankruptcy of Ideas
Once the masters of evil politics, the GOP has been reduced to half-assed buffoonery, providing comic relief for desperate times.
Twilight of the Hulk
For three decades, Hulk Hogan was the world's biggest wrestler and a pop-culture icon. Now, knocked down by a broken marriage, an empty bank account and a busted-up body, is he down for the count?
Paul and Ringo's Transcendent Duet
The Fab Two reunite at a star-studded Radio City Music Hall event.
How 'The Office' Changed Television
The show has perfected the delicate art of cringe comedy, but will the formula translate to Parks and Recreation, the new Amy Poehler sitcom?
2009 Hall of Fame Rocks Cleveland
A raucous hometown crowd cheered on this year's inductees, led by Metallica, Run-DMC and Jeff Beck.
The Dead's Long, Strange Day in NY
Weir, Les and Co. kick off reunion tour with three free shows in 24 hours.
Tinted Windows
Meet the unlikely new supergroup. (Hint: It includes Taylor Hanson and James Iha.)
Kelly Clarkson
The pop star on why Auto-Tune ticks her off and not kissing Katy Perry.
Bob Dylan's Grim Sign of the Times
He's never sounded lustier, more ravaged or more pissed off.
Tyson Hits Hard
The new doc about Iron Mike, the tragic former champ and ex-con, pulls no punches.
[DFR::366426-1154-ls|align_left_1]