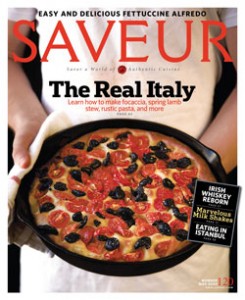 Saveur has released its May 2009 issue. Featured in this edition are articles on Turkish coffee, Amaro, Irish Whiskey, and home made ice cream.
Bittersweet Symphony: Turkish Coffee
Learn the history behind this famed brew, and how to make the perfect cup.
In 16th-century Turkey, coffee was the elixir of royalty, brewed by a kahvecibasi, or chief coffee maker, who was considered a trusted member of the sultan's court. As the consumption of coffee entered the public domain, the velvety drink was sipped almost everywhere, both on significant social occasions and at intimate family gatherings. Nowadays, expatriate Turks in America, such as the Boston-based chef Ozcan Ozan, still prepare the caffeinated drink traditionally. For Ozan, the earthy aroma of Turkish coffee, known as kahveh, triggers an image of his mother, working a handheld grinder to brew his father's after-dinner cup.
 
Ozan, who owns the Sultan's Kitchen in Boston, outlined for SAVEUR a series of easy steps that produce a foolproof demitasse. Best made in a cevze, or a petite, long-handled pot (a small saucepan also does the trick), the coffee is first boiled with sugar and water over a low flame. When foam begins to appear, lift the saucepan or cevze from the stove and scoop the foam into a cup. Simmer the rest of the coffee; then bring it to a quick boil, pour it over the foam, and serve it immediately. Properly made, the coffee has a thick accumulation of sugar and a rich trail of finely ground coffee lining the bottom of the cup.
Amaro: Three To Try
The Basilicata region is only one of many in Italy that produce the bitter digestif known as amaro. Here are tasting notes of three of our favorites.
We've long known that Basilicata, the region of Italy tucked between the toe and the heel of the boot, is home to many of our favorite foods and wines, but we've only recently learned that amaro, the bitter Italian digestif, often hails from the same place. Made for more than five centuries from a process that entails the macerating of herbs (anything from chamomile to wormwood), citrus, flowers, and roots in alcohol, the drink is underappreciated here in the States, where it is often claimed to be too harsh for the American palate.
Similar to grappa (made from grape skins), vin santo (a thick, meadlike wine), and other Italian digestifs, amaro is meant to be sipped slowly after a leisurely meal. It is usually served neat, thinned with tonic water, or over ice, and in the winter it is sometimes heated and garnished with a twist of lemon. While amaro makes no apologies for its boldly herbaceous flavor—it was originally concocted for use as a tonic, not a cocktail mixer, after all—we were pleasantly surprised by these mellow and drinkable liqueurs.
Irish Whiskey, Made By the Irish
John Teeling of Cooley Distillery answers our questions about his liquid gold.
In 1970, John Teeling, an Irish graduate student at Harvard Business School, did a case study on the history of Irish whiskey exports. His findings were bleak: Irish whiskeys, once a major contender in international markets, had experienced a dismal century. Prohibition in the States, two world wars, decades of economic isolation, and shifting tastes, among other factors, had devastated the once vibrant industry. Teeling suspected that he could turn it around.
Twenty-seven years later (after becoming chairman of several mining companies), he founded Cooley Distillery—the first new distillery to open in Ireland in more than a hundred years and the only Irish-owned distiller on the island (Bushmills and Midleton are owned by Diageo of Britain and Pernod-Ricard of France, respectively). Soon, under the direction of master blender Noel Sweeney and master distiller David Hynes (seen at left), Cooley was making Irish whiskey in styles not seen for 50 years and in some cases never at all: peat-smoked malt whiskeys, single-grain whiskeys, and single malts finished in madeira, sherry, and port casks. Since its bottles first hit the market, in the 1990s, Cooley has won more than 150 domestic and international awards. Recently, SAVEUR spoke by phone with Teeling from his offices in County Louth, in northeastern Ireland.
Homemade Ice Cream
11 recipes for this cool and creamy delight.
Vanilla Banana Black and White Milk Shake
This recipe for a layered shake is based on one in Thoroughly Modern Milkshakes by Adam Ried.
Malted Caramel Shake
This recipe is based on one in Thoroughly Modern Milkshakes by Adam Ried.
Classic Vietnamese Dipping Sauce
This version of the classic Vietnamese dipping sauce is based on a recipe from SAVEUR contributing editor Andrea Nguyen, author of Into the Vietnamese Kitchen.
Chocolate–Almond Cookies
These traditional crumbly cookies from the Basilicata region of Italy are flavored with Strega, an Italian herbal liqueur.
Iceberg Wedge with Blue Cheese
This hearty wedge salad, which contains the classic elements of a bacon, lettuce, and tomato sandwich, is a version of one served at Old Homestead Steakhouse in New York City.
[DFR::37159-1154-ls|align_left_1]