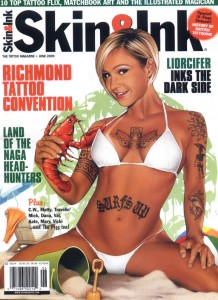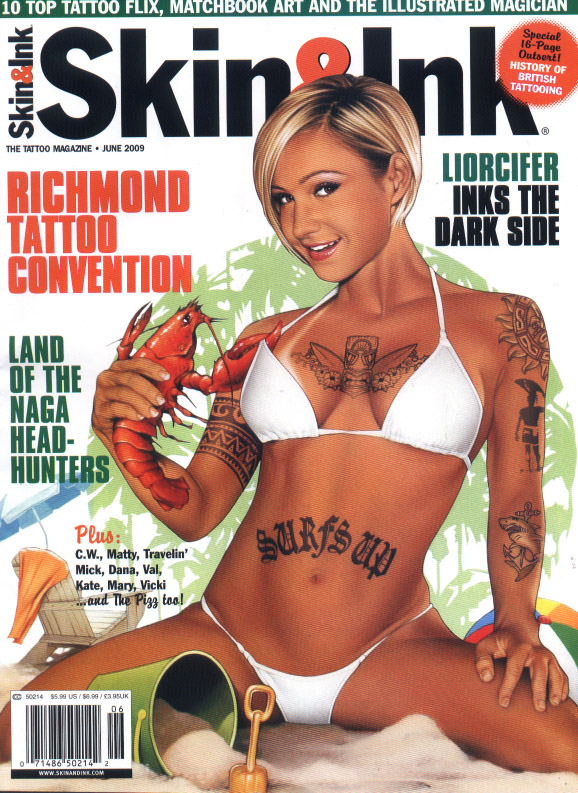 Skin&Ink has published its June 2009 issue. Featured in this issue are Liorcifer, Jessica Ilalaole, and Jess Yen. Also featured are the Richmond Tattoo Convention, a quick history Of British tattooing, tattooed Naga headhunters, and temporary tattoos.
Bits & Snatches
The world most-tattooed magician, Liorcifer inks the Darkside, Dana gets hoodwinked, Jason D'Aquino's matchbook art, the Question Man, Val being Val and Travelin' Mick answers The Big 10.
Hipshots
Jessica Ilalaole snaps Seattle inkers and—who would have guessed?—funnyman Robin Williams!
Skin&Ink Dolls -With Jeff Davidson
Lovely Katherine's little boy helped pick out her Star Wars and E.T. tattoos.
Readers' Gallery
Groovy. Cool. Far out. Mind-blowing. All of that and more in the tattoo gallery.
Features
Richmond Tattoo Convention
It's been many a moon since we visited Billy Eason's classy event. So, what's poppin' after all these years?
A Quick History Of British Tattooing
The U.K.'s leading exponent of skin art recalls the foibles and funny episodes of England's colorful and determined tattoo forefathers.
Land Of The Tattooed Naga Headhunters
Travelin' Mick visits the mystical, magical tattoo world of the lost Naga headhunter tribes of northeastern India.
Hot Flash
A sizzling collection of tattoo flash by a Nutty list of top tattoo talent.
Columns
Our Living History With C.W. Eldridge
Chuck talks about those cool vegetable dye transfers called temporary tattoos.
Travelin' Mick
It's interesting why China's tattoo convention is in out-of-the-way Langfang, an hour outside of Beijing.
Spotlight With Vicki Botnick
Jess Yen combines the best of both worlds at My Tattoo in Alhambra, California.
Q&A With Matty Jankowski
Tattoo movies, in which the actors and/or the plot is thick with ink.
Around The World With Shanghai Kate
A rant, a rave, a celebration—a return to a time when conventions were fun.
[DFR::77569-1154-ls|align_left_1]