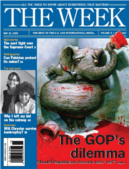 This weeks issue of The Week magazine has arrived in mailboxes. Features this week include: Can Chrysler survive bankruptcy? Republicans: Is there a path back to power? Obama weighs Supreme Court options. Signs of an economic recovery. Swine flu threat recedes.
Arts & Leisure
Books
Also of interest … secrets of the brain
Books
Author of the week: Ayelet Waldman
Novel of the week: Brooklyn by Colm Tóibín
Vanished Smile: The Mysterious Theft of Mona Lisa by R.A. Scotti
Book of the week: The First Tycoon: The Epic Life of Cornelius Vanderbilt by T.J. Stiles
Music
Bob Dylan: Together Through Life
Bill Callahan: Sometimes I Wish We Were an Eagle
Art Brut: Art Brut vs. Satan
Film
Ghosts of Girlfriends Past
Battle for Terra
X-Men Origins: Wolverine
New on DVD
People and Gossip
Gossip: Sean Penn, Robin Wright Penn
Gossip: Rudy Giuliani
Gossip: Carrie Prejean
Gossip: The Vatican
Hulk Hogan's painful decline
The book that ruined Gay Talese
Brooke Shields' maternal karma
Lifestyle
New cars: 2009 BMW 7 Series
The best … space savers
Tip of the week: How to make an iPod battery last
Best websites to make meetings efficient
For those who have everything: The Thunderbolt R2G2
Travel
Europe: Small nations, momentous pleasures
Last-minute European travel deals
Book List
Best books … chosen by Michael J. Fox
Stage
Stage: Ragtime
The week's other opening: Accent on Youth
Art
Exhibit of the week: The Pictures Generation, 1974–1984
Where to buy … Jean-Marie Périer: First-person Access
Television
The Week's guide to what's worth watching
Movies on TV this week
Show of the week: Independent Lens: Crips and Bloods, Made in America
Extras
Business columns: The business case for female leaders
Business columns: For sanity's sake, expect the worst
Issue of the week: Can Chrysler survive bankruptcy?
Making Money
Workplace
What the experts say
Health-care costs: A fight for answers, and relief
Main Stories
Obama weighs Supreme Court options
News & Opinion
Obama weighs Supreme Court options
Signs of an economic recovery
Swine flu threat recedes
Controversies
Republicans: Is there a path back to power?
Best Columns – US
Punishing whites for being white
The end result of torturing Zubaydah
Prosecutors who'd rather ignore rape
Quote of the week: Jonah Goldberg
Best Columns – Europe
France: The philistines who want to ruin rosé
United Kingdom: Will YouTube destroy the prime minister?
Best Columns – International
Russia: How the U.S. protects its arms dealers
Canada: When parents keep their kids ignorant
India: Election time in the world's biggest democracy
Talking Points
Pakistan: Fears of a nuclear Taliban
Torture: What would Jesus do?
Biden: The accidental fearmonger
Cursing: Not on TV, you don't
Briefing
How Star Trek conquered the universe
How They See Us
Is it Spain's place to investigate Gitmo?
Obituaries
Jack Kemp
Salamo Arouch
Health and Science
Health & Science
Health scare of the week: Sweetened drinks make you fat
Polls
Poll watch
Cartoons & Short Takes
Polls
Poll watch
Editor's Letter
Editor's Letter: O, be some other name!
It Wasn't All Bad
Routine day hike becomes three-day nightmare, and more
Boring but Important
Targeting tax havens, and more
Only in America
Workplace racial-sensitivity pamphlet called insensitive, and more
Good Week – Bad Week
Saudi Arabian children, and more
Tabloids
Pilot saved by portable toilets, and more
Noted
People with ordinary sore throats and fevers flood ERs
[DFR::617525-1154-ls|align_left_1]