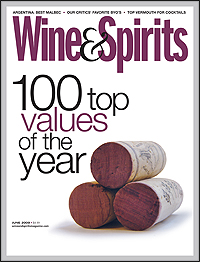 Wine&Spirits Magazine has released it's June 2009 issue. Featured in this issue are articles on Aldo Sohm, 45 value brands of wine, Becco's restaurant in NYC, and Vermouth.
Malbec… with fish?
Aldo Sohm holds the 2008 title as the Best Sommelier in the World. And he's just been nominated for the Best Wine Service Award from the James Beard Foundation. He's also one of the most cheerful sommeliers you're likely to meet, an Austrian heading up the wine service at New York's bastion of French seafood, Le Bernardin. Recently, Sohm returned from Mendoza, Argentina, where he had conducted a seminar on malbec at the Masters of Food & Wine, South America. W&S caught up with Sohm to talk malbec, the red wine that had all the sommelier buzz in our 20th Annual Restaurant Poll, and one that's gaining a place on Le Bernardin's list.
What Can You Get for $25?
You wouldn't suspect it walking down Manhattan's Restaurant Row on West 46th, but hidden among the food hustlers and wafts of marinara sauce is one of the most innovative and influential Italian wine programs in the United States. Jeremy Ensey is the senior manager and sommelier at Becco, a restaurant opened in 1993 by the mother-and-son team of Lidia and Joseph Bastianich. Ensey moved to New York 12 years ago and started working with the younger Bastianich at Lupa and Esca before starting at Becco in early 1999.
45 value brands of the year
Here's a short list of names you can trust: The brands with good $10 wine, the wineries with delicious $16 or $18 wine. We've combed through the results of our last 12 months of tastings to see which brands consistently produce great wines that leave change when you hand over $20. These 45 range from a Finger Lakes winery putting out world-class riesling for a song to a stellar lineup of Sherries that run $13. Whether it's lush Horse Heaven Hills reds you're searching out or spicy Rhône blends, these brands deliver the goods at a great price.
Rejiggering Vermouth
In the heyday of the cocktail in the late 19th and early 20th centuries, a bartender's arsenal relied on vermouth. The Savoy Cocktail Book, Harry Craddock's 1930 cult compendium of the known cocktails, lists 285 cocktails using vermouth (over a third of the total). For decades, however, vermouth has laid dormant in bar wells and kitchen cabinets, where half-empty bottles hide. A downward spiral of oxidation followed, creating the common misconception of vermouth as bittersweet vinegar. Now, as bartenders rediscover old recipes, vermouth is undergoing a renaissance.
Fino Summer
Walk into Boqueria at 3 p.m. on a weekday afternoon, and you might feel like you've been transported to Spain. When other places would be desolate (or, more likely, simply closed), Boqueria buzzes with Spaniards or others with internal hunger clocks set later than most Americans, consuming plates of thin-sliced ham, boquerones or a full-on lunch. As the hour gets later, the air smells tangier, a combination of pata negra and Sherry.
[DFR::47627-1154-ls|align_left_1]