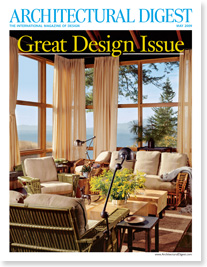 Condé Nast has released the May 2009 edition of Architectural Digest Magazine!
Light Touch for New England
Crisp, Modernist Forms Take Hold in an Oceanfront Meadow
Montana Compound
On Flathead Lake, Clients, Architect and Designer Join Forces With Nature
Easy Living in the Hamptons
A Sublime Location and Historic Structures Lend Charm to a Revitalized Residence
Toast to Simplicity
A House on Martha's Vineyard Distills the Essence of Its Windblown Setting
Hawaiian Craftsman
Translating the Arts and Crafts Ideal on the Big Island
Posada de Mike Rapu
Chile's Archaelogical Wonders Inspire a New Luxury Resort on Easter Island
The Woodworker's Art
Maine's Center for Furniture Craftsmanship Encourages Imaginative Departures
Dazzling Menagerie
For Cartier's 100th Anniversary in America, a Sparkling Collection Goes on Show
Kitchens by Designers
All the Right Ingredients: Eight Inventive Approaches to an Everyday Space Give Us One More Reason to Stay Home
Glass Houses
AD's spotlight on gemlike structures that defy the traditional sense of space.
Quiet Spaces
Our selection of beautiful retreats within the home – calming spots that afford escape, peace and relaxation.
Artists in Residence
Architectural Digest visits some of the most accomplished artists of the past century, including Marc Chagall, Helen Frankenthaler and Andrew Wyeth.
Before & After: Kitchens
AD editors present their favorites—10 dramatic kitchen remodels from some of the top designers working today.
AD Directory
Look here for a listing of the designers, architects, hotels, museums, galleries and dealers featured in each month's issue of Architectural Digest.
[DFR::26712-1154-ls|align_left_1]