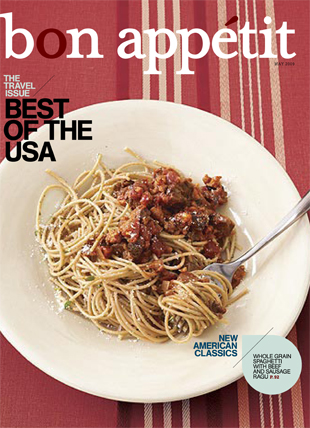 Condé Nast has released their May 2009 issue of Bon Appétit. This is the month for their annual Travel issue! The United States has become a global culinary destination—with refined regional cuisines, ethnic food of every stripe, and artisanal foods that rival the best in the world. A California road trip, a visit to New York's new restaurant row, a delicious dinner in New Orleans—these stories and more. These stories are a celebration of American food in all its delicious variety.
The United Plates of America
A guide to the best things to eat, drink, and buy in all 50 states.
The New American Classics
Ready for a modern take on iconic, all-American dishes? Recipes like Zinfandel-braised beef short ribs, green curry with seafood, and many more are destined to be the new standards.
A Scene Grows in Brooklyn
Just across the river from Manhattan, Williamsburg has become a foodie destination. BRETT MARTIN explores a neighborhood where innovative restaurants thrive alongside 100-year-old eating institutions.
Big on Pig
With American heritage purveyors leading the way, there's no better time to join the artisanal pork revolution.
Entertaining with Style®
A Big Easy Party
A warm New Orleans spring evening is the perfect backdrop for a menu of Creole, Cajun, and locavore comfort cooking—plus cocktails and beer.
Food's Golden State
Whether it's the fertile soil, blissful climate, or boho locals, there's something about California that's made it the forerunner of countless food trends. Nathalie Jordi hits the road to find the tastemakers behind California's unique food culture and gets a taste of what's in store for the future.
Diner Desserts
Retro American sweets are better than ever in refined recipes for creamy cheesecake, banana cream pie, milk shakes, and mile-high chocolate cake.
Starters®
The Sazerac.
In 19th century New Orleans, a descendant of escaped slaves created a cocktail that became into an American classic.
Fast Easy Fresh®
Quick everyday recipes from the Bon Appétit test kitchen.
Family Style
Kids (with a little help from Dad) can whip up this special Mother's Day breakfast in bed.
At The Market®
Spring Greens
This special tear-out guide features recipes and tips for dandelion greens, Swiss chard, and mustard greens.
Wine & Spirits
Hot on the trail of artisanal spirits in Oregon, HEATHER JOHN gets a refreshing look at Portland's incredible wineries, microbreweries, and distilleries.
Cooking Life
A throwback to the early 1920s, green goddess dressing is a tangy, creamy revelation.
Health Wise
With long-held concern over sodium and high blood pressure, is salt getting a fair shake? John Hastings finds out how to season without guilt.
Prep School®
Making harissa from scratch; perfecting layer cakes; acing buttercream; and more.
Feedback: Jennifer Garner
The actress and mom of two describes the perfect snack, recalls an exquisite meal, and reveals a secret (a cabinet full of chocolate!).
Recipes
Cover Recipe
Beef Shank and Sausage Ragù with Whole Grain Spaghetti 92
Appetizers
Asiago-Stuffed Dates with Bacon and Smoked Paprika
Asparagus, Fingerling Potato, and Goat Cheese Pizza
Asparagus Salad with Parmesan Dressing
Baby Greens with Artisanal Cheeses and Charcuterie
Grilled Romaine and Halloumi Cheese with Mint Vinaigrette
Smoked Trout Spread
Beverages
Almond-Banana Smoothies
Malted Vanilla Milk Shakes
Pimm's Cup Cocktails
The Sazerac
Soups, Breads
Pint-Size Lemon-Poppy Seed Muffins
Pizza Dough
Seville Chorizo and Manchego Savory Cakes
Spring Greens and Lima Bean Soup
Thai Green Curry with Seafood
Salads, Salad Dressings
Asian Noodle Salad with Shrimp
Asparagus Salad with Parmesan Dressing
Baby Greens with Artisanal Cheeses and Charcuterie
Coleslaw with Remoulade Dressing
Creole Marinated Tomatoes
Curried Carrot Salad with Nonfat Yogurt
Green Goddess Dressing
Roasted Sweet Potato Salad with Red Bell Pepper
Strawberry-Citrus Salad
Breakfast Dishes
Almond-Banana Smoothies
Pint-Size Lemon-Poppy Seed Muffins
Strawberry-Citrus Salad
Wheat Germ Scones with Dried Fruit and Nuts
Main Courses
Fish, Seafood
Arctic Char with King Trumpet Mushrooms, Fingerlings, and Meyer Lemon Butter Sauce
Asian Noodle Salad with Shrimp
Herb-Roasted Salmon, Potatoes, Carrots, and Sugar Snap Peas
Mahi-Mahi in Tomato-Olive Sauce
Open-Face Crab Burgers with Red Pepper Dressing
Seared Scallops with Bok Choy and Miso
Thai Green Curry with Seafood
Meats
Beef Shank and Sausage Ragù with Whole Grain Spaghetti
Grilled Grass-Fed Rib-Eye Steaks with Balsamic-Caper Vinaigrette
Pasta alla Gricia
Pork Chops with Leeks in Mustard Sauce
Sausage Risotto with Spring Greens
Spanish-Style Pork Rib Roast with Pan-Roasted Romesco Sauce
Stir-Fried Beef, Broccoli, and Yams
Sun-Dried Tomato and Fennel Sausage Patties with Creamy Polenta
Zinfandel-Braised Beef Short Ribs with Rosemary-Parsnip Mashed Potatoes
Poultry
Chicken and Spring Greens Gratin
ChickenMole
Deep-Fried Chickens
Moroccan Chicken with Green Olives and Lemon
Oven-Baked Chicken Breasts with Lemon-Mustard Arugula Salad
Spicy Turkey Chile Verde with Hominy and Squash
vegetarian Asparagus, Fingerling Potato, and Goat Cheese Pizza
Curried Cauliflower and Chickpea Stew
Double-Dutch Mac and Cheese with Chard
Pasta, Pizza, Rice
Asparagus, Fingerling Potato, and Goat Cheese Pizza
Beef Shank and Sausage Ragù with Whole Grain Spaghetti
Double-Dutch Mac and Cheese with Chard
Pasta alla Gricia
Pizza Dough
Sausage Risotto with Spring Greens
Sandwiches
Open-Face Crab Burgers with Red Pepper Dressing
Steak Sandwiches with Bacon, Arugula, Camembert, and Caramelized Onion
Vegetables, Side Dishes
Coleslaw with Remoulade Dressing
Creamy Polenta
Creole Marinated Tomatoes
Roasted Sweet Potato Salad with Red Bell Pepper
Spring Greens Sauté with Bacon and Walnuts
White Beans with Tasso
Sauces
Green Goddess Dressing
Desserts
Cinnamon-Dusted Mini Churros
Strawberry "Shortcakes"
Cakes
Brownie-Bottom Lemon Cheesecake
Mile-High Chocolate Cake with Vanilla Buttercream
Vanilla Cake with Strawberry Cream Frosting
Cookies
Chocolate-Chocolate Chip Cookie and Strawberry Gelato Sandwiches
Frozen Desserts
Chocolate-Chocolate Chip Cookie and Strawberry Gelato Sandwiches
Cinnamon-Rum Ice Cream
Fresh Strawberry Gelato
Malted Vanilla Milk Shakes
Pies, Tarts
Caramel-Apple Tartlets with Cinnamon-Rum Ice Cream
Peanut Butter Banana Cream Pie
Puddings
S'mores Dark Chocolate Puddings
 [DFR::71612-1154-ls|align_left_1]