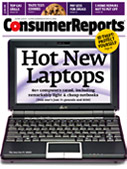 Consumer Reports has released the June 2009 issue of their magazine. Featured in this edition are articles on cybercrime, home repairs you shouldn't ignore, DIY landscaping, independent car servicemen, and reviews of toilet paper, knives, laptops, desktops, tradmills, and mixers.
Boom time for cybercrime
The economy and online social networks are the latest fodder for scams
Suspicious site
An online job search led to waves of spam and a disabled computer for Dan and Pat Quigley.
One in five online consumers were victims of a cybercrime in the past two years, according to the latest Consumer Reports State of the Net survey. That means there's a strong possibility that your money will be added to the $8 billion we estimate cybercrime cost consumers or that your computer will join the 1.2 million others that we figure were replaced because of software infections during that time.
The overall rate of cybercrime hasn't declined much over the five years we've tracked it. Crooks continue to take advantage of new technologies. And consumers, corporations, and the government haven't done all they could for protection.
The problem stands to get worse as rising unemployment and foreclosures fuel a wave of recession-oriented Internet scams. And the soaring popularity of social-networking services, such as Facebook, is creating more openings for identity thieves.
5 home repairs you shouldn't ignore
Use our expert advice to stop trouble in its tracks
Too little, too late
By the time this home's owner discovered the water damage, his roof had to be removed down to the rafters.This article is the archived version of a report that appeared in June 2009 Consumer Reports magazine.
You might be tempted to put off fixing your home until the economy rebounds. Rebuild the patio? Sure, right after your 401(k) rallies. But some problems, if left unchecked, can lead to thousands of dollars in repairs (rebuilding a foundation wall, for instance) and might even compromise your family's health, such as mold contamination.
The trouble signs are easy to spot, provided you know what to look for. What's more, contractors aren't as busy now, so they're likely to be more flexible on price. Here are the five biggest red flags of home maintenance, with our advice on how to deal with them. No problems? Check out these Simple spruce-ups.
Runaway rainwater
Roof and siding
Pest infestations
Mold and mildew
Foundation cracks
How to squeeze a nickel
Here's hoping you find new ideas among these staff and reader tips
Lawn care
Grow annuals from seeds. It's much easier to buy flats, but seeds are very inexpensive.
Rather than buy plants, trade plant clippings with friends. They're free!
Be your own landscaper. Doing basic lawn care yourself is good for you—and for your wallet.
Lab Tests
'Greener' roll saves you green
Greener choice
Marcal's Small Steps was a good value among the recycled products.
Our latest tests show that toilet paper made of recycled ingredients could help you save money as well as the planet. At just 8 cents per 100 sheets, Marcal's Small Steps was among the least costly, recycled or not. But don't expect top strength or softness.
When we did a full report on toilet paper (May 2009), our sensory panel found that all three recycled products in the test scored only mediocre for softness. But those products were reformulated before publication, so we did not include them in the Ratings. Instead, we did a follow-up on their successors. Marcal's Small Steps, a two-ply paper, is the softer, reformulated version of the Marcal 1000 and Marcal Sunrise.
Independent service is more satisfying
People who took their car to an independent mechanic for maintenance were generally more satisfied than those who went to a dealership, according to our survey involving 349,000 vehicles.
Eighty-four percent of owners reported being very satisfied with maintenance performed at independent shops compared with 77 percent at dealerships. But they were more satisfied with the dealer service of some car brands than of others.
Among the highest-scoring dealerships were Lexus, Buick, and Acura. On the other end of the scale, Volkswagen, Suzuki, Jeep, and Nissan owners were far less satisfied with dealer service. Overall, four domestic-car dealers—Buick, Saturn, Mercury, and Cadillac—scored relatively high.
Volkswagen owners were among the least satisfied with their dealership maintenance. Still, 82 percent said they were very satisfied with maintenance performed by their independent mechanic.
Andrew Epstein, an assistant professor in New Haven, Conn., who took the survey, says the independent shop that services his 1990 Volkswagen is "very thorough and thoughtful, and always gives me a good sense of how important something is to fix."
Among owners whose cars needed repairs and maintenance, the difference in satisfaction with dealers and independent shops was even more pronounced: 75 percent were very satisfied with independents vs. just 57 percent with dealerships. Lexus, Acura, and Buick service departments came out on top, while Volkswagen and Jeep dealers rated among the lowest.
Shopping Comparison of Notebooks and Laptops
Netbooks are a lighter, cheaper alternative to traditional laptops. Plus: New standard laptops and desktops
Plus product reviews on:
Knives
Nine sets show a fine edge.
Treadmills
Ramping up the innovations.
Mixers
A classic model whips the competition.
[DFR::615513-1154-ls|align_left_1]