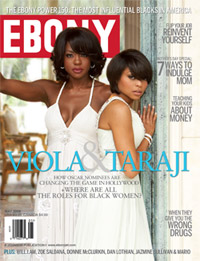 Johnson Publishing Co. has published the May 2009 issue of Ebony magazine. Featured articles include a discussion with Viola Davis and Taraji P. Henson concerning challenges facing current black actresses, an interview with Laurence Shatkin on finding the right type of job for you, prioritizing your money management, and 7 special things to treat your mom!
Snagging A Job Outside Of The Box
Is your business downsizing? Did you lose your job? If so, don't despair. It's time for a career reinvention. In other words, take what you know and flip it. Career strategist Laurence Shatkin says job seekers should devote time to figuring out what they like to do, and then determine the activities in which they excel. 
Life Beyond the Oscars
Find out what Tyler Perry, Meryl Streep and Whoopi Goldberg say about these talented actresses. Academy Award-nominees Viola Davis and Taraji P. Henson have both proven that when you know your worth, no one can take it from you. At the 81st annual Oscar ceremony, the two found themselves waiting to win the same award for best supporting actress. While the audience applauded for Penelope Cruz, they both shared in a symbolic moment that still remains dear. "We looked right at each other, we connected," says Henson, talking about when she blew Davis a kiss during the commercial break. "We had to have that moment, just for each other, to let each other know, 'You know what? It's still all good.'"
That's how it works in Black Hollywood. Your triumph is my triumph. Not that there aren't moments of extreme competitiveness. After all, both Davis and Henson say, there isn't an abundance of work for Black actresses. Yet, the competition is really fierce. When auditioning for a role, Davis could be walking in while Nia Long is walking out. Or Alfre Woodard could be exiting while Henson is strolling in. The problem, some actresses say, is that these roles tend to be slightly flat, with no real depth in the characters.
 
In an exclusive photo shoot for Ebony magazine's May issue, Davis and Henson talk candidly about various challenges that continue to face Black actresses. "Black directors really don't offer me movies," says Davis, who takes no offense to this. "Most of the work I do is really in predominantly White films. That's just how it works."
Ebony Power 150
Ebony magazine presents its 46th annual list of "The Most Influential Black Americans." This year's "Power Behind the Power" list turns the spotlight on the top Blacks in President Barack Obama's administration. Just to name a few, Attorney General Eric Holder, Senior Advisor Valerie Jarrett, U.S. Ambassador to the United Nations Susan Rice and White House Social Secretary Desirée Rogers are highlighted.  View EBONY's 2009 Power 150 List
Your Children and Money
Is saving for a rainy day just an old saying to you? Is buying a big car or a designer purse a higher priority than putting away money for a house or the kids' college education? If this sounds like the way you manage money, then you are definitely in need of a money makeover to build a solid future for your entire family. 
7 Special Ways to Treat Mom
Whether it's a trip to the spa or just giving mom her space, make it a day she'll cherish. Ebony magazine offers seven ways to treat mom like a queen while staying within your budget. 
Mix-ups Over Medicine
Prescription drugs that look or sound alike can lead to errors. When you go to a pharmacist, you don't expect to become a victim of a prescription mix-up that may not only make your condition worse, but could cause death. Learn eight ways to protect yourself.
Ebony Fashion Fair
Photos from 2009 Spring Season of The Runway Report: What's Hip. What's Hot. What's Now!
[DFR::147512-1154-ls|align_left_1]