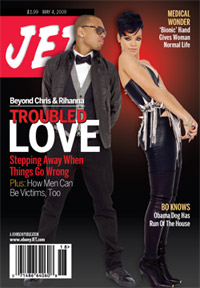 Johnson Publishing Content has released their latest issue of Jet magazine. In this issue you will find articles on Esperanza Spalding, National Action Network, Telisa Boston, and Walking Away From Troubled Relationships.
Esperanza Spalding Dreams Up Her Own Blend Of Acoustic Jazz
While most young musicians only dream about spreading their music across the globe, Esperanza Spalding, the 24-year-old acoustic bassist, vocalist and composer, is busy making her dreams come true. Spalding's self-titled debut CD, on which she sings in English, Portuguese and Spanish, is as unique and eclectic as she is.
Sharpton's National Action Network Seeks To Close Educational Gap
Rev. Al Sharpton believes education is the civil rights issue of the 21st Century.  Thousands of supporters who attended Sharpton's recent annual National Action Network (NAN) conference in New York left determined to close the educational achievement gap between Blacks and Whites. 
Telisa Boston: Bionic Hand "Has Changed Everything"
The past year has been life-changing for Telisa Boston. She's gotten married, promoted to an international sales manager at her California company and, most recently, received a bionic hand that she says has made her life more fulfilling.
Path To Healing: Walking Away From Troubled Relationships
Nineteen-year-old singer Chris Brown's alleged attack in February on his girlfriend, singer Rihanna, now 21, raised awareness about the severity of teen dating violence. Each year 1.5 million women are victims of domestic violence, according to the National Institute of Justice. The victims and the perpetrators come from all walks of life, all ages and sexes. Abuse does not discriminate. 
Black History Quiz
On May 1, 1950, this poet and author became the first African-American to win a Pulitzer Prize for Annie Allen (1949), her volume of poetry. A native of Topeka, Kan., but raised in Chicago, she began writing poetry at age 7, published her first poem at 13 and was a contributing writer to the Chicago Defender by the time she was 16. This extraordinary woman, who graduated with a degree in English from Wilson Junior College in Chicago in 1936, later became the Poet Laureate of Illinois for 16 years. Some of her best-known works include A Street In Bronzeville (1945) and Maud Martha (1953).  She published two autobiographical works, Report From Part One (1972) and Report From Part Two (1995). She was also the first woman to be elected to the 250-member National Institute of Arts and Letters in 1976. She died of cancer at age 83 in her Chicago home on Dec. 3, 2000.
 
Also featuring:
Keke Palmer Hot Among Hollywood's Valuable Young Stars
Michael Jordan Elected To Basketball Hall of Fame
David "Pop" Winans Remembered
And More…
[DFR::236452-1154-ls|align_left_1]