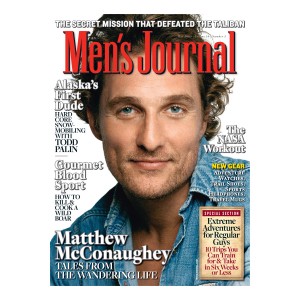 In the May 2009 issue of Men's Journal, on newsstands now, Matthew McConaughey opens up about living a celebrity life on the road in his Airstream, Todd Palin introduces readers to Alaska's brutal Iron Dog race, we reveal the untold story of 12 U.S. soldiers who fought the Taliban on horseback, and a hunter, a top chef, and a journalist walk into a swamp for a blood-soaked lesson in how to capture, prepare, and savor wild boar.
Matthew McConaughey: The Air-Conditioned Gypsy
To really get to know Matthew McConaughey, you have to hear his tales from the road. Like about the KKK brisket guy in Waco, or the 7,200-mile trek in his Airstream. Because at heart he's a vagabond.
Survival Skills: Jack LaLanne
The king of fitness on what to eat, how to live, and keeping your woman happy — even in your 90s.
The Greatest Nature Show Ever Filmed Hits Theaters
Earth, the HD movie version of the innovative Planet Earth mini-series, opens in theaters April 22.
Alone Across the Ice
Todd Carmichael set out to become the fastest person to reach the South Pole on foot. He didn't count on having to fight for his own life.
Update to "The Killing Peak"
Setting the record straight on the K2 tragedy.
The Charge of the 9/11 Brigade
Nearly six weeks after 9/11, a dozen members of the U.S. Special Forces embarked on a secret and highly unusual mission behind enemy lines. Riding horses too small for them, they led the first charge against the Taliban — and won. Here, in an exclusive excerpt from Horse Soldiers, is their story.
Iron Todd Palin
Last time you saw Todd Palin he was standing quietly by his woman on the campaign trail. Now meet him on his own terms, as an outdoorsman who competes in one of the toughest races on Earth.
Paradise Regained
Entrepreneur Greg Carr restores a wildlife park to its former glory.
[DFR::274612-1154-ls|align_left_1]