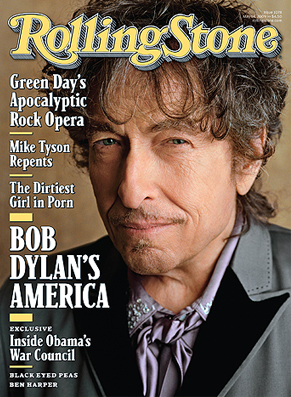 Rolling Stone's latest issue 1078 revisits one of their favorite artists, Bob Dylan, who has graced the covers of Rolling Stone 16 times. Also featured is an inside look at Obama's security team, Mike Tyson's fragile peace, Sasha Grey, and an interview with the Mayor of Braddock, PA.
Bob Dylan's America
Our greatest songwriter inhabits an alternate land of Chuck Berry and Walt Whitman, Texas gunslingers and murder ballads. And he may be the last man living there.
Inside Obama's Security Team
They rarely speak in public, but behind the scenes, Obama's national security advisers are organizing the biggest overhaul of U.S. policy since World War II.
By Robert Dreyfuss
Mike Tyson's Fragile Peace
With a brutally frank documentary hitting theaters, the former world champ is about to step back into the ring. But this time, it's his demons staring back at him.
Sasha Grey: Porn's Avenging Angel
Hardcore's reigning princess reads Nietzsche, shuns drugs and is trying to change society's attitudes about women and sexuality — one gangbang at a time.
The Mayor of Hell
Braddock, Pennsylvania, may be America's worst town. Meet the Harvard-educated punk-rock pol who is trying to save it.
Rock & Roll
Resistance to Tour-Biz Merger Grows
How will the proposed $2.5 billion Ticketmaster/Live Nation deal affect artists and fans?
Coachella: McCartney, Killers Kick Off Festival Season
Chart Watch: Black Eyed Peas Hit Top With Electro Jam
Crime: Phil Spector Found Guilty of Murder; Faces Life in Prison
Exhibition: Hall of Fame Explores John Lennon's New York Years
Checking In: Yusuf Islam Revives the Cat Stevens Sound on New Disc
Live: DMB's New York Blowout Show
Breaking: Airborne Toxic Event's Bummed-Out Smash
Profile
Eric Church
Country's new hitmaker loves Merle, hates trust-fund kids.
Q&A
Ben Harper
On finding inspiration riding city buses and his heavy new band, Relentless7
Records
Green Day's Punk-Rock Opera
Epic new disc makes American Idiot sound like a warm-up.
Plus: Conor Oberst and the Mystic Valley Band, The Hold Steady, Diane Birch, St. Vincent, New York Dolls, Yusuf, Gomez, Serge Gainsbourg, Rick Ross, Trey Anastasio, Art Brut, Beastie Boys, Rodriguez, Manchester Orchestra, Death Cab for Cutie, Chrisette Michele, Jill Sobule and Playing for Change: Songs Around the World.
Fricke's Picks:
Trembling Bells and John Martyn
Movies
Hot Summer Flicks
The scoop on Star Trek, Brüno and 14 more of the season's best movies.
[DFR::366426-1154-ls|align_left_1]