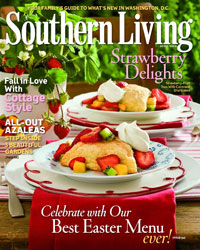 Southern Progress has released their April edition of Southern Living, and it's all about Easter, and the celebration of Easter. From your menu, to your table settings, this edition of Good Housekeeping provides you with the perfect Easter Dinner.
Celebrate Easter
Plan your Easter Sunday celebration with menus, recipes, and table setting ideas from our experts.
* Easter & Brunch Menus
* Easter Sides
* 25 Easter Appetizers
* 20 Spring Desserts
* Spring Table Settings
Quick & Easy Fish Suppers
Simple seafood suppers that can be on your table in 45 minutes or less
Give Your Yard a Party Makeover
Transform your outdoor living space with tips from before and after landscaping photos.
25 Indulgent Strawberry Treats
We found twenty-five ways to enjoy this irresistible springtime fruit.
How to Make Speckled Eggs
Dye your own beautiful eggs for a fresh Spring table
3 Courtyard Designs
Draw inspiration from this trio of beautiful courtyards hidden across the South.
Cottage Kitchens
Charming and cozy by design, see the best cottage-style kitchens featured in Southern Living
[DFR::397313-1154-ls|align_left_1]