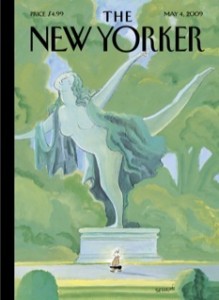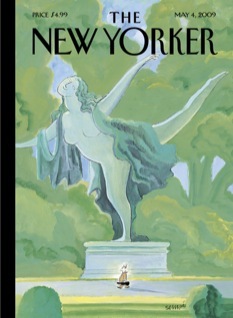 The May 4, 2009 issue of New Yorker has been published. Featured are articles on the Texas Secession, Dolly Parton, and Jeff Koons.
So Long, Pardner
If at first you don't secede…. A second try at a Texas Secession?
The Talk of the Town
Take Two
Reprogramming ex-Wall Streeters for new careers.
Looking Swell
Dolly Parton on New York City. 
At Sea
A fire on the island off the Bronx.
Art on the Grass
Jeff Koons and an art collection in Greenwich.
The Sporting Scene
Horse Sense
The debate over racing.
Shouts and Murmors
Buzzed
by Noah Baumbach
Annals of Medicine
Open Channels
New drugs that target bad genes.
A Reporter at Large
The Life After
A startling exercise in reconciliation.
Letter from Washington
Money Talks
The guardian of Obama's priorities.
Fiction
"The Slows"
by Gail Hareven
On Television
"Parks and Recreation."
by Nancy Franklin
Books
The novels of António Lobo Antunes.
by Peter Conrad
Briefly Noted: "Every Man Dies Alone"; "Wandering Stars"; "The Rider on the White Horse"; "Armenian Golgotha."
The Art World
"The Pictures Generation."
by Peter Schjeldahl
Dancing
Merce Cunningham and Karole Armitage.
by Joan Acocella
Musical Events
Esa-Pekka Salonen's exit.
by Alex Ross
The Current Cinema
"Il Divo," "The Limits of Control."
by Anthony Lane
Poems
"Treatment"
by Ange Mlinko
"Forgotten Fountain"
by W. S. Merwin
Critics' Notebooks
The début of the YouTube Symphony.
by Alex Ross
"Clytemnestra," at the Skirball Center.
by Joan Acocella
"The Private Life of Sherlock Holmes," at BAM.
by David Denby
DVD Notes
David Fincher's "The Curious Case of Benjamin Button."
by Richard Brody
Table for Two
Vinegar Hill House
by Lauren Collins
[DFR::299047-1154-ls|align_left_1]