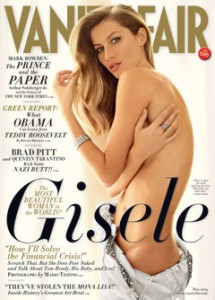 Vanity Fair released their May 2009 issue. On the cover is Gisele Bündchen, their main feature, whose rags-to-riches story is brought together, showing the highs and the lows of her rise to stardom. Also featured are stories on Arthur Ochs Sulzberger Jr., Inglourious Basterds, Teddy Roosevelt, and the usual political fix for the left side of the nation.
FEATURES
And God Created Gisele
Gisele Bündchen's rags-to-riches saga—of a gangly 14-year-old from the Brazilian sticks who became the world's most sought-after supermodel, then married star quarterback Tom Brady—has included some traumas, not least the revelation that Brady's ex-girlfriend was having his baby. Leslie Bennetts gets Bündchen's mile-a-minute account of the highs, the lows, and what comes next.
High C In High-Def
Wayne Maser and Damian Fowler spotlight seven international opera stars who are putting to rest the "fat lady sings" cliché, via live broadcasts to movie theaters.
The Inheritance
As a fourth-generation scion of America's most influential newspaper family, Arthur Ochs Sulzberger Jr. wanted nothing more than to run The New York Times, preserving its proud journalistic tradition. With an in-depth portrait of the 57-year-old publisher—and an inside look at his tenure—Mark Bowden asks whether Sulzberger's lifelong Times worship made him the wrong man for the job.
The Thrill Room
Todd Eberle and Matt Tyrnauer spotlight an impressive lineup of power-lunchers, who gathered in the Four Seasons Grill Room to mark the restaurant's 50th anniversary.
Bohemian Tragedy
Every year, members of the ultra-exclusive Bohemian Club—who include Henry Kissinger, George H. W. Bush, and hundreds of right-wing tycoons—cavort freely among the majestic redwoods of Northern California. One thing they don't enjoy is talk that the club is logging these trees on its 2,700-acre property. Alex Shoumatoff sneaks into the opening ceremonies to investigate.
Tarantino Goes To War
With an exclusive excerpt from the screenplay of his creatively spelled World War II epic, Inglourious Basterds, Quentin Tarantino reveals the suspense-filled opener of one of the year's most anticipated films, premiering at Cannes this month, while Brigitte Lacombe captures Brad Pitt and other cast members on the set.
There Will Be Beauty
In times like these, A. A. Gill writes, couture is a bet on the future, on galas, grand entrances, and extravagant gestures. With Emily Blunt as muse, Michael Roberts photographs the winners from the Paris collections.
How The West Was Saved
For all his hunter's bloodlust, Theodore Roosevelt turned out to be an environmental pioneer, preserving some 230 million acres of America's most sublime wilderness, including the Grand Canyon. His epiphany, in 1903, was swift and dramatic. In an excerpt from a new biography of the 26th president, Douglas Brinkley follows T.R. on a crucial journey across the land he governed.
FANFAIR
Days In The Life Of The Culture
Paul Cox draws inspiration from Washington, D.C.'s cherry-blossom festival.
The Cultural Divide
Elissa Schappell's Hot Type
Lisa Robinson's Hot Tracks
My Stuff—Jenna Lyons; Jonathan Kelly hits the nail on the head at Garber Hardware
Dustin Yellin resonates for Aaron Gell; Bruce Handy thinks Tyson is a knockout; Night-Table Reading
Meenal Mistry cleans up with Beekman soaps
Columns
The Swastika And The Cedar
Lebanon is a country of contradictions: a pluralist democracy, with a thriving café culture, and also a staging ground for Iran and Syria. As Christopher Hitchens discovered on a recent Beirut trip—involving two very different rallies and a run-in with Fascist thugs—the next Middle East conflict may already be under way.
To Boldly Star
Mark Seliger and Krista Smith spotlight Chris Pine, who'll get beamed up next month in the new Star Trek prequel as an untested Captain Kirk. Plus: Outtakes from the photo shoot.
What's Wrong With Washington?
With a younger, hipper administration in power, the Beltway pundits sound less relevant than ever, touting Newt Gingrich as a bold thinker and Mitt Romney as an edgy Cabinet pick. James Wolcott pokes at the impenetrable conservatism of the capital's media bubble.
The Buckley Identity
Over soufflés and Sauvignon Blanc, Christopher Buckley tells John Heilpern why he turned his annus horribilis—with the deaths of his parents, conservative icon William F. Buckley Jr. and socialite Patricia Buckley—into his next book.
The Man Who Ate The G.O.P.
Rush Limbaugh has made his feelings about President Obama amply known—emerging as the standard-bearer of the G.O.P. in the process. As the party quakes in Limbaugh's shadow and assesses the price of his support, Michael Wolff figures out the source of his power.
Stealing Mona Lisa
On August 21, 1911, the most famous painting in the world disappeared from the Louvre Museum. In an excerpt from their forthcoming book, Dorothy and Thomas Hoobler recall an audacious theft that left Paris distraught for more than two years—and may have concealed a far cleverer crime.
Reif Larsen's Map Quest
Gasper Tringale and Evgenia Peretz spotlight Reif Larsen, whose new novel offers up a literary hero for the ages, 12-year-old map-maker T. S. Spivet.
VANITIES
Paquin's Back
Heather Mills shares the secrets of her popularity with Craig Brown; Howard Schatz captures Terrence Howard in character
Bruce McCall helps the still wealthy conceal their good fortune
Candy Spelling discusses motherhood—and the singles scene—with George Wayne
[DFR::458012-1154-ls|align_left_1]