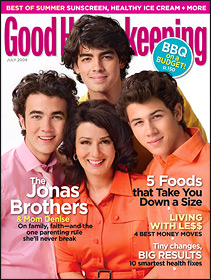 Good Housekeeping has released their July 2009 issue. Featured in this issue are articles on the mom of the Jonas Brothers, summer's fashion deals, 4 steps to keep your finances afloat after being laid off, and the best products of the summer to tempt you into spending even more money.
How to Raise Rock Stars
Denise Jonas, mom of the Jonas Brothers, opens up about how she keeps them grounded. Plus, download a free poster, watch behind-the-scenes video, and enter to win an autographed magazine and CD.
From food stamps to fame, it's been a wild ride for Denise Jonas, mom of America's biggest pop stars, the Jonas Brothers. Here, she opens up about how she keeps them grounded and makes her marriage work — plus the one parenting rule she will never, ever break
About a year ago, Denise Jonas took her family to a Bob's Big Boy near Burbank, CA. As everyone began deciding between the fried chicken and cheeseburgers, in walked Kristy McNichol, the actress who starred in the late-1970s TV series Family and the 1980 film Little Darlings.
Summer's Best Fashion Steals
Warm-weather looks don't have to burn your budget — not when these chic, bankable buys cost $50 or less!
Versatile Skirts
A wardrobe-stretching tropical-patterned skirt is evening-worthy with heels, or day-trip comfy with flip-flops.
Bright Florals
Your fashion dollar goes further if you pick sun-ready separates with a vacation vibe. The forgiving fit of this body-skimming floral linen tunic keeps you cool when it's sticky — and it can double as a beach cover-up.
Eye-Catching Orange
This do-it-all dress, with its go-anywhere versatility, gives you more than you bargained for: The shin-swishing length plays up shapely calves, the flowy fabric glides over hips, and the strategic shirring (and touch of spandex) helps hold you in.
Pretty Petal Pushers
Be kind to your bottom line with these breezy, botanical-splashed capris, as carefree as shorts (but less revealing); the prints partner perfectly with solid-color basics. Team either with a tequila-green straw tote for a casual combo.
Easy Everyday Dresses
Take a stroll on easy street, thanks to everyday-wearable dresses in classic cuts and traffic-stopping hues. This ladylike, sleeveless stunner, left, swirls with fool-the-eye florals, while a sizzling shade of salsa, right, heats up a weightless faux-wrap style.
Caribbean Cool
The best deal under the sun? A Caribbean-colored skirt loaded with islandy details — embroidery, crocheted lace — that will instantly summerize any top or tee.
You've Been Laid Off. Now What?
Lost your job in this economy — or afraid you will? Follow these four steps to keep your finances afloat.
Maybe you've recently gotten the pink slip at work — or you fear you might be next: You are not as alone as you might feel; over 660,000 people lost their jobs in March alone. And since the economy isn't yet on the rebound, many of the newly unemployed are feeling stranded, with no prospects for a new paycheck. Financially speaking, cutting back on lattes isn't going to do the trick.
While times are tough, you can get through them if you make the right moves — knowing, say, when to cash in your 401(k) and when not to, and how to find discounted health insurance. Here, the latest, smartest strategies so you can keep your head above water.
Old thinking: Cut back on eating out
New thinking: Cut back on everything
Old thinking: Sign up for COBRA, but find a cheaper plan ASAP
New thinking: Sign up for COBRA for at least nine months
Old thinking: Tapping retirement funds should be a last resort
New thinking: If you're forced to do so, tap the Roth IRA first
Old thinking: Put your credit cards away — period
New thinking: Get a 0 percent-interest card and use it responsibly
The Best of Summer: GHRI's Top Products
Experts at the Good Housekeeping Research Institute share their picks for the best summer gear.
Mix to the Max
Oster's Classic Beehive Blender is one of the few models we've worked with that does everything well — grinding coffee, chopping nuts, pulverizing ice. In fact, in tests of blenders over the years, it's always creamed the competition. With only one speed and a pulse function, it's a cinch to use. In summer, I keep fresh fruit on hand so my son can make his own smoothies. And I preserve my garden basil by chopping in the blender with olive oil, packing a thin layer into self-sealing bags, and freezing flat. When I need some, I just snap off a chunk.
Ice Cream Dreams – At-Home Treats
If you'd like to stock the freezer with sweets, try my low-guilt picks: Dreyer's/Edy's Slow Churned Frozen Yogurt Blends in Tart Mango or Tart Honey. They're 100 calories and 1.5 grams of fat per half-cup serving, and deliver tangy yogurt-shop flavor for a fraction of the cost. For chocoholics: Breyers Smooth & Dreamy reduced-fat ice cream just introduced Chocolate Chocolate Chip, a decadent flavor that's surprisingly low-cal, with 140 calories and 5 grams of fat per half cup. Also new: Strawberry Cheesecake. With 120 calories and 3.5 grams of fat per half cup, it's tasty and even lighter.
The Sounds of Summer
Griffin Evolve Wireless Sound System lets me move the party from room to room, or even outdoors. The speakers can be placed up to 150 feet from the base station, which plugs into the wall and has a built-in iPod dock. (Auxiliary inputs allow you to play nearly any audio device, such as another MP3 player, a stereo, or a TV.) The speakers can last for 10 hours, and then rest on the base station to recharge.
Super Spinner
My secret to a perfect salad: Drying the greens after washing. Water on lettuce dilutes dressing, which then runs off; adding more is wasteful (and fattening). The Zyliss Easy Spin whirls away water, removing more moisture than any other spinner I've tried.
Kiddie Corner
Chunks O' Fruti Strawberry Fruit Bars are a smart choice for ice-pop fans like my 5-year-old son. A 90-calorie, fat-free bar delivers 35 percent of daily vitamin C requirements — along with chunks of real fruit. As a mom and nutritionist, I'm pleased that the pops don't contain the artificial ingredients plaguing many goodies marketed to children.
Play Mates
With three sons, ages 7, 11, and 15, I'm always looking for toys they can use together (and, I hope, not squabble over). Spalding Rookie Gear balls are the same size as regular youth balls, but weigh 25 percent less — my youngest can take on his bigger brothers without being at as much of a disadvantage.
Silky Sunscreen
Like any mom, I worry about my kids' getting too much UV exposure, but slathering on gunky lotions isn't their idea of fun in the sun. Neutrogena's Ultra Sheer Dry-Touch Sunblock promises a "weightless clean feel," and I think it delivers. Our lab tried the full line, from SPF 30 to the new SPF 100+, and all absorb quickly with no stickiness. It hasn't been proven that astronomical SPFs are needed; the American Cancer Society recommends 15 or higher to defend against sunburn. What's most important, I tell my kids, is reapplying a palmful every two hours and after swimming.
Made in the Shade
SunSafe's Beautiful Bucket Hat is one of the few beach hats I've tried that has a 50+ Ultraviolet Protection Factor, thanks to the tightly woven fabric — quick-drying, so it's perfect in and out of the water — and a wide brim that gives good face and neck coverage. The hat fits comfortably and stays put even in the waves. I don't realize I've had it on for hours until one of my sons teases me about it! Also, in our lab tests, it didn't fade or shrink after multiple washes.
Grill Power
The space-saving Char-Broil Infrared Commercial Series Urban Grill with two burners simply sizzles. It cooks evenly with no flare-ups or charred spots. I love that steaks are branded with a beautiful crosshatching, and chicken turns out delectably brown with crispy skin and no burned edges. Though it's compact, the grill can still cook 16 burgers at once. Nice extras include two thermometers (one for each burner) and perforated trays beneath the stainless steel grates that let the heat through but catch bits of food for easier cleanup. A bonus: The grill comes with a custom-fit vinyl cover to protect it from the elements.
[DFR::194512-1154-ls|align_left_1]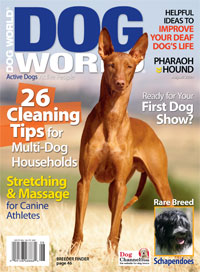 Bow Tie Inc. has released its August 2009 edition of Dog World Magazine! Featured in this month's magazine are two breeds, Pharoah Hounds and Schapendoes, cleaning your multi-dog home, living with a deaf dog, and Raccoon hunting with coonhounds.
Blushing Beauty
Beneath the Pharaoh Hound's chiseled good looks and athletic prowell lies an opinionated jester.
The Pharaoh Hound may have an exotic, regal appearance befitting a breed named after ancient Egyptian rulers, but beneath that chiseled exterior lies a sense of humor. "You'd better have a sense of humor, too, if you're going to own one," says longtime breeder-exhibitor and Pharaoh Hound Club of America board member Pam Haig.
The Pharaoh Hound has long had a reputation as one of the oldest dog breeds, said to date to 3,000 B.C. Modern genetics, however, show that the breed was created much more recently, perhaps in the 17th century on the Mediterranean island of Malta, where it is called the Kelb tal-Fenek and is used to hunt rabbits (its name means"dog of the rabbit" or "rabbit hound"). The breed was declared the national dog of Malta in 1979.
Home Clean Home
26 ways to tame the mess in your multi-dog home.
Under the Moonlight
The United Kennel Club's nite hunts attract talented coonhounds and their ultra-competitive owners.
Raccoons are nocturnal; unless disturbed or desperate, they remain in their dens during the day and must be hunted (or trapped) at night. From these circumstances, the sport of coon hunting developed – a sport in which scenthounds are essential.
Coonhound breeds were developed to satisfy a practical function: lead the hunter to a raccoon. They must have an excellent sense of smell, called a "cold nose," which can pick up trails affected by wind, temperature and dampness. The hound must trail the raccoon through dense cover, bare ground and even water. After the coon climbs a tree, the hound must be able to locate the tree and notify its owner of its whereabouts.
Life with a Deaf Dog
Diagnosing, training and loving your hearing-impared dog.
Rare Breed Spotlight: Schapendoes
This veteran herders refuses to be forgotten.
Take a cup of Polish Lowland Sheepdog, add 1/4 cup Puli, 3 tablespoons of Bearded Collie, 2 teaspoons of Bergamasco, a dash of Briard and a pinch of Old English Sheepdog. Stir well and voila – you have the Schapendoes. Historians debate whether this Dutch breed was a combination of other shaggy herding dogs or simply evolved from the same root stock that produced the better-known breeds. However, one look offers convincing evidence that it's part of the family.
The Schapendoes traces back to the 1800s. Wherever pastures and flocks of sheep were found in the Netherlands, Schapendoes were there working tirelessly and joyously. Breed numbers started to decline when sheep farmers began importing Border Collies from England to handle herding duties. By World War I, the Schapendoes was rarely seen.
Canine News
AKC performance events welcome mixed breeds; debut of pets-only airline; and more.
Sports & Fitness
Canine Stretch and Massage: Regular conditioning can help prevent injuries in your performance dog.
People
The Good Life: Margery Good, owner-handler of top-winning Sealyham Terrier Charmin, talks about her lifelong career in show dogs.
In the Ring
Ready, Set, Show! All you need to know about entering your first conformation show.
Natural Health Solutions
An Elusive Condition: Often mistaken for liver disease, pre-Cushing's syndrome can be treated using natural supplements and herbs.
Breeder's Notebook
Good Omens, Bad Omens: How an unexpected fault sparked discussion among breeders.
[DFR::138312-1154-ls|align_left_1]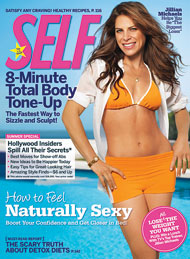 Condé Nast has released their July 2009 issue of Self magazine. In the feature article for this issue, the Biggest Loser coach, Jillian Michaels helps you fulfill your health goals. Also featured are recipes from some of Los Angeles' top eateries, putting your sexier side on display, lightening up your makeup, successful spiritual strategies, and controlling weight tips!
Dine like a star!
Crave a little taste of fame? Whip up these naturally healthful celeb-approved eats from L.A.'s top restaurants.
Be unabashedly sexy!
Cali gals have a rep for being naturally sensual. Learn how to unleash your inner flirt and flaunt your sexy side!
Natural beauty
Take a break from heavy makeup. For your prettiest summer face, lighten up with tips from celebrity pros.
The new happy
Create your own bliss with the same spiritual strategies adopted by many West Coast women.
11 ways to change your weight fate
Seemingly harmless habits can affect what size you'll be 5 or 10 years from now. Peek into your future with our quiz. Then use this cheat sheet to target the most effective ways to make a difference. Want to see how you?re doing? Retake the quiz every month to track your progress.
Scene-stealing snacks
Lurking on the sets of your favorite shows: catering tables loaded with junky food. Check out how nutritionist-to-the-stars Ashley Koff, R.D., slashes the fat (but not the fun) so celebs actually like to eat healthfully. Then do it yourself!
Top-notch toppings
Cool down with a tangy L.A. treat: fro yo! Spruce up a plain swirl with 2 tablespoons of these tasty, healthy picks.
The scary new skinny
Women in L.A. are naturally so slender, they don't need to worry about losing weight. Um, yeah, right! Their latest "healthy" method for staying slim can border on the downright dangerous—and it's probably already changing the way we all think about diets.
Help save my hair!—experts have their say
Achieving glossy, healthy strands doesn't have to be a battle. Pros at the Neil George Salon in Los Angeles helped four women conquer their toughest style issues. Defeat your own 'do saboteurs with these makeover maneuvers.
[DFR::378812-1154-ls|align_left_1]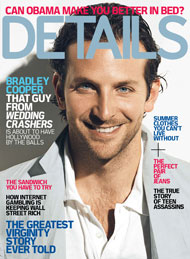 Condé Nast has released their June/July 2009 issue of Details Magazine. In the feature article, Bradley Cooper, the hangover star is about to have Hollywood by the balls. Also featured are Isabel Lucas, Barack Obama, Justin Gaston, Derek Black, Arlen Specter, and Jenna Lyons.
Bradley Cooper Is High On The Hangover
With the physique—and appetite—of a prizefighter, impeccable comic timing, and a breakthrough role, the bully from Wedding Crashers is about to have Hollywood by the balls
Sexy Transformers Star Isabel Lucas
The alluring Aussie is a passionate animal-rights activist who writes herself notes on her body. So yes, there is more to her than meets the eye
Young Guns
Meet the teenage American hit men who are getting paid to kill for the Mexican drug cartels
Are You Becoming Barack Obama?
(And could that be a good thing?) Never mind politics—from the way we wear our suits to the way we relate to our wives, somehow American men are acting a little more like 44
Room Service
Hot nights in the city call for lightweight suits, pops of color, and shoes worthy of Prince
How Internet Gambling Is Keeping Wall Street Rich
A generation of down-on-their-luck brokers are trading in stocks for Plan B—online poker
Justin Gaston: The Trouble With Dating Miley Cyrus
Forget how he feels about being the boyfriend of Disney's megastar—Justin Gaston is just happy not to be modeling briefs
How Looking Poor Became The New Status Symbol
They dress like hoboes but spend like millionaires. Meet the poorgeoisie
Derek Black: The Future Of White Power
On the surface, he's just another baby-faced fan of Taylor Swift and Twilight. But underneath lurks the next David Duke
The Greatest Virginity Story Ever Told
When guys go to Vegas, there's usually only one thing on their minds. Otto Baxter is no different—except for the fact that he has Down syndrome
Wiseguy: Arlen Specter
The newly minted Democrat talks about battling Bush, singing Sinatra, and why monkeys shouldn't climb flagpoles
Saturation Point: Second Weddings
Now that showbiz couples are making sequel ceremonies fast and furious, isn't it time to stop saying "I deux" and return to a single nuptials?
Three Ways To Wear Patterns This Summer
Madras, gingham, and seersucker have always been the holy trinity of any Wasp's summer wardrobe. But this season, even Pabst Blue Ribbon hipsters are joining the faithful
Rules Of Style: J. Crew's Jenna Lyons
The creative director on vintage watches, slim jeans, and the horror of pleats
How To Wear A White Suit
Approached with care, the look is striking and thoroughly of the season. Just make sure you can handle the spotlight
 [DFR::details-3218|align_left_1]
The Bonnier Corporation has released their June/July 2009 issue of Boating Life Magazine
On the Cover
Monterey's new 280 SCR is a well-dressed weekender without the sticker shock.
Features
Summer Gear 09
We compare the best grills, coolers, anchors and gadgets for the boat and trailer, just to give you a giant head start on summer.
Pumped Up!
A world-acclaimed motivational speaker jumps onto the most radical tubes of the year, one wild ride at a time.
Island Dwellers
They are dropped off as far as 20 miles from the mainland, alone, where sometimes they wait days for a boat to show up. This is the island life.
Departments
From the Helm
Gear test fest! Boy, did we ever.
Dockside
– A novelist uses his books to turn readers into boaters
– 6 quick fixes for a smoother boat ride
– How to restore your boat's lost sole with ease
– Why you should pay more attention to your shoes
Quick Looks
The future: World's first hybrid wake boat. Plus, two models with retro appeal.
Road Trips
Eagle River, Wisc.; Big Mac, Neb.
At Play
Instant wakeboarding success; 3 choice wakeboards under $300; 5 ways to rig a boat for fishing
We've Always Wanted to Ask
An athlete can be a fisherman — but does it work the other way?
[DFR::7089-1154-ls|align_left_1]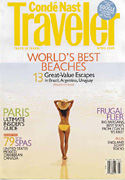 Condé Nast has released the June 2009 edition of Condé Nast Traveler Magazine! Featured in this issue are articles on travelling to several Canadian cities: Montreal, Quebec City, Toronto, Vancouver, Halifax, and Calgary. Also featured are additional articles on travel to Istanbul, Bogotá, Naples, Mexico City, Jakarta, Johannesburg, and New Orleans.
Montreal: The Art of Gluttony
Destinations: Montréal
Does this city have the greatest selection of raw-milk cheeses outside Paris? Mais oui! But what about the best deli sandwich you'll taste in North…
Why is the food so good in Montreal? Certainly it's not because the locals speak French. After all, the French lost control of Quebec in 1759, and a visit to rural Quebec proves that not all French speakers are raging epicureans. But there's something different about Montreal. Can you think of another North American city where it's so easy to buy fresh goose and duck foie gras?
Quebec City: Ancien Régime
Destinations: Québec City
Where can you walk through a medieval town abuzz with locals speaking French? No, silly, not in France—in Quebec City, where the ancien…
Do you want to get lost in the past as you wander the cobblestoned streets of a 500-year-old city—a city hand-hewn out of stone half a millennium ago—only to snap back into the present when you enter some delightful little sandwich shop, where the girl behind the counter speaks only French (one tip: Here, always say yes to more cheese). If so, then welcome to Quebec City, a one-hour flight north of New York City.
Toronto: Architecture City
Destinations: Toronto
It's long been known as one of the safest metropolises in the world—(but its thrilling new architecture, by the best of today's big names,…
Peter Ustinov once quipped that Toronto is New York run by the Swiss. It was meant as a compliment, but Canada's largest city seems to be on a mission to shrug off its staid reputation by giving itself an architectural makeover.
Vancouver: West Coast Bliss
Destinations: Vancouver
When it comes to talk about healthy outdoor living, Vancouver walks the walk (in hiking boots, no less). Here's how and where to bliss out, West…
When the world's best winter athletes converge on Vancouver in February, their biggest challenge will be resisting the temptation to kick back and chill out. This is a place where even a conservative nine-to-fiver in a pinstripe suit can tell you his favorite yoga position or the best brand of soy milk. Serene, green, and cupped by mountains, Vancouver is a land of fresh seafood plucked out of the ice-cold Pacific and parks where the trees are taller than the surrounding buildings. What better place, in other words, to Zen out, detox, and let your worries slip away?
Calgary: The Great Outdoors
Where can you go rafting, biking, and paragliding all in the same day, watch the sun set behind a limestone peak, and still make that dinner…
Don't let the endless swath of prairie out the airplane window fool you. Calgary may be flat, but it's situated a mere 60 miles from the Rocky Mountains, making it an adventurer's playground masquerading as a city. Less than an hour and a half from Calgary by car, Banff National Park (see right) is the most famous in Canada—and that's saying something: In terms of jaw-dropping, life-changing scenery, it's right up there with Yellowstone and Yosemite. In Banff's case, Mother Nature has supplied her version of a scenic monorail: the Bow River.
Halifax: Old School Sounds
For the best of old-school sounds—and we mean old-school—set sail for Halifax, where Celtic music is being given a brand-new life and pop…
Is it really surprising that this port town a two-day sail north of Boston has one of the most thriving music scenes on the East Coast? After all, the only thing sailors like more than a punch-up is a sing-along. If this sounds like your cup of ale, then head to the Old Triangle Irish Ale House, where Tuesday nights are open session.
Istanbul's Lush Life
Destinations: Istanbul
It's modern and Muslim, European and Asian, cutting-edge and conservative—and though at least two millennia old, thrillingly hip. Joan Juliet…
Eleven-forty on a hot July night in the Dervis Café on the top of the first hill of Istanbul, halfway between Hagia Sophia and the Blue Mosque. Melon and apricots in front of me, espresso at my elbow, and a strange fragrance from the tables behind me, where men suck on water pipes, narghiles. A server circulates with a brazier, handing out pieces of burning charcoal with little tongs to stoke the pipes. Every now and then the nearest narghile emits a tranquil gurgling of bubbles, its user a contented exhalation. Squeaking toddlers waddle and crash around the tables. This is Sultanahmet, the Muslim Montmartre, on top of ancient Byzantium. Couples walk past the café, women in head scarves and long coats. A group of young girls flash by giggling, heads covered, their T-shirts bearing the name metallica.
Ultimate European Cruise
Destinations: Croatia, Dubrovnik, Greece, Venice
Oh, the Places You'll Go! Adam Platt boarded what may be the world's most luxurious passenger ship in Venice, bound for Athens by way of Dubrovnik,…
Fontainebleau Miami Beach
Road Rules
Timeless travel insights from Condé Nast Traveler
Yes We Can! Eight Great Trips That Give Back
Destinations: Cambodia, Costa Rica, Kenya
You don't have to wear a hair shirt and dig a well to give back when you travel. Here are 8 great trips that connect you with the world
Ombudsman: Run for the Money
Problems arise when a couple try to get repaid after canceling a hotel booking
Paul Theroux: The Lesson of My Life
In 1963, Paul Theroux joined the Peace Corps, shaping both its future and his view of the world: Cue President Obama's new appeal to public service…
Summer Sale Finder
Great deals on hotels and air travel are heating up—but only in certain places. Here's where to find the best travel values in years.
If you think we've seen a buyers' market for travel lately, wait till summer. What with the economic crisis that has devastated business travel, airline overcapacity forcing carriers to cut fares, the low price of oil (which allows airlines to drop fares even more), the epidemic of empty hotel rooms (made worse by a glut of brand-new hotels), and the strength of the U.S. dollar, experts say that we're looking at a onetime confluence of events that will spell much greater bargains than we've seen in the past few summers. But travel won't be discounted to the same degree everywhere. There will be pockets of opportunity—certain destinations and methods of booking that will yield the greatest value for your dollar. Carpe diem.
Bogotá
Bad Reputation, Great Destination: This walkable metropolis of seven million is once again reclaiming its role as Latin America's intellectual and…
For well over a decade, few cities in the Americas inspired as much bad press as Bogotá, Colombia. More than the capital of a country, it was a capital of crime, murder, kidnapping, and bombs; a place where the cartels dispatched their drugs, paramilitaries trafficked weapons, and leftist rebels set their sights. The guerrillas welcomed current president Álvaro Uribe with a series of homemade mortar attacks on his inauguration in 2002, leaving 21 people dead in a slum near the palace.
Cruising Europe: Places and Prices
Destinations: Croatia, Dubrovnik
Like pods of migrating whales, the world's cruise ships swap the warm confines of the Caribbean for the coastal waters of Europe during the late spring and the summer. The two "yachts" operated by SeaDream Yacht Club are more intimate than those of luxury lines like Crystal, Seabourne, and Seven Seas, but the prices are comparable: Staterooms start at $4,000 per week.
Turkish Delights: Istanbul's Places & Prices
Destinations: Istanbul
Joan Juliet Buck and Esin Göknar pick and choose among Istanbul's cornucopia of treasures. Istanbul is a sprawling city of 18 million, with a patchwork of neighborhoods bisected by the Bosphorus into the European and Asian sides. The up-and-coming Golden Horn, an inlet of the Bosphorus on the European side, was settled by Jews, Armenians, and Greek Orthodox during tolerant Ottoman times. This revitalized area and the luxurious waterfront of the Bosphorus—plus the rising star of the Asian region—have added to Istanbul's charms in recent years.
Naples
Bad Reputation, Great Destination: Though this historic seaside gem is awash in character, its gritty image keeps many visitors away.
The Italian port city of Naples found a trashy way (to be in the news last year: City landfills overflowed, garbage piled up in the streets, and even the region's famed mozzarella was suspected of turning toxic. The prime minister finally waded (in and forced the opening of new landfills, but Naples's image—already tainted by mob-related crime—was left in the gutter.
Mexico City
Destinations: Mexico City
Bad Reputation, Great Destination: This Latin American megalopolis has been a thriving center of arts, commerce, and culture for more than 700 years
Violence in Mexico took center stage in late February when the U.S. State Department issued an alert that murders by drug cartels were on the rise and that dozens of American citizens had been kidnapped there in recent years. Although most of the trouble is centered along the U.S./Mexican border, Mexico City has seen its share.
Jakarta
Bad Reputation, Great Destination: Indonesia's vibrant capital offers some of the best shopping, dining, and nightlife in Southeast Asia
Terrorist bombings at the Marriott Hotel in 2003 and the Australian embassy in 2004 frightened visitors away, and the city's epic traffic and smog have made it difficult for Jakarta to rehabilitate its image.
Johannesburg
Bad Reputation, Great Destination: This city of 2.5 million is a burgeoning cultural capital emerging from the dark days of apartheid on the strength…
From its volatile nineteenth-century beginnings as a gold-mining shantytown through the turbulent years of apartheid and beyond, Southern Africa's largest city has grown accustomed to being portrayed in the media as an impoverished and lawless place more associated with carjackings than culture.
New Orleans
Destinations: New Orleans
Bad Reputation, Great Destination: This city on the Mississippi has taken its knocks, but for three centuries the music—and the party—have… Bad press hardly matters when you've been around for 300 years, but even the cheeriest boosters agree that most New Orleans headlines and television images make the city look like a mess: drunken coeds stripping for Mardi Gras trinkets; bouncers beating Bourbon Street patrons; murders; and crumbling homes in flood-ravaged neighborhoods. If the hurricanes don't get you, the long hot summers will.
Road Rules
Timeless travel insights from Condé Nast Traveler
[DFR::104712-1154-ls|align_left_1]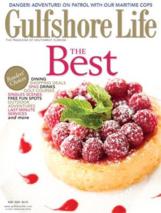 Curtco/GSM has published its May 2009 edition of Gulfshore Life! Featured in this issue are articles on: The Best Readers' Choices, Dining, Shopping Deals, Spas, Drinks, Golf Courses, Singles Scenes, Free Fun Spots, Outdoor Adventures, Last-Minute Services, and more. Danger! Adventure! On patrol with our Maritime Cops.
Featured Articles
Best of the Gulfshore 2009
The tally is in: Our readers name the top people, places and services around.
For this year's best of the Gulfshore, we put the fate of the winners in the people's hands with a readers' choice ballot. And you are a discerning lot—determining the quality places to find the best steak or martini, meet singles or get a haircut. Make no mistake: The people have spoken, and the winners are …
They'll Save Your Life (And Your Purse)
There's many a dramatic challenge for the cops who patrol our coastal waters.
While patrolling the Gulf of Mexico near Naples, Dave Johnson of the Collier County Sheriff's Marine Bureau knew the dark plume two miles away was more than just diesel exhaust smoke. He rushed to the scene and found an elderly couple aboard a blazing cabin cruiser. "I knew I had one shot to get in there," he says. "You worry about an explosion."
Johnson jumped aboard and helped the couple onto his boat. But the drama wasn't yet over. While the woman yelled, "My purse! My purse!" Johnson jumped back onto the burning boat and retrieved it.
Travel
Seduced by Savannah
Springtime in Savannah. A picture may be worth a thousand words, but those three words are worth 10,000 pictures. I wish I had space here to show you 10,000 pictures of the city that so enchanted Gen. W.T. Sherman in 1864 that he could not bring himself to burn it in his earth-scorching March to the Sea. Instead, he gave it to President Abraham Lincoln as a Christmas present.
His Christmas card read, "I beg to present to you as a Christmas gift the City of Savannah with a hundred and forty heavy guns and plenty of ammunition and also about 25,000 bales of cotton."
Scene & Heard
Triple Your Pleasure … Dramatic Proposal … A Magical Night
Can you top this? a charity event that tripled its take over last year? With more than 400 in attendance at the Miromar Lakes Beach and Golf Club on the last weekend in February, the Southwest Florida Wine & Food Fest raised $750,000 for the Children's Hospital of Southwest Florida. And check out these highlights:
Realty Check
A Boost for Local Real Estate
One bright spot in the current residential real estate market is the imminent launch of a commercial project—a science and technology park planned for 24.6 acres at Southwest Florida International Airport.
Luxury Home & Design
The Asian Island Look
When the original three-bedroom ranch house on Gordon Drive was leveled to the ground, Naples architect David Poorman was challenged to help his clients, a couple from Missouri, build a new home that would act as guest quarters to their beach house across the street.
Because the homeowners wanted a Southeast Asian island motif, Poorman's design was inspired by the works of famed Sri Lankan architect Geoffrey Bawa as well as traditional Balinese elements, he says.
Here & Now
Recession Cure-all? Rubbing Salt in the Wound
Not to be cavalier about this recession thing—I've lived through three already, the first in 1973, the year gas prices skyrocketed from 38 cents to 55 cents a gallon and the whole country panicked over an alleged toilet paper shortage. Still, there's something sweetly hopeful about this one, at least here along the Gulfshore.
This time around, we each seem to be trying, in our individual way, to do our small part. Even when we don't technically have to, it has become very chic to downsize, especially if we get to talk about it. Why just the other day, I overheard a guy on his iPhone/TV/computer/DVD burner/martini shaker saying that he'd just traded his big, conspicuous Hummer for a lightweight little Porsche Carrera GT. OK, I made that up, but it's true that a business owner known for her impeccable style recently was spotted at Whole Foods gushing about the perfect little Eric Javits bag she picked up for $49 on—gasp!—eBay.
Savvy restaurateurs saw this coming and headed straight for simplicity. Move over, Extra Virgin Olive Oil (EVOO, north Naples), because just last week I had lunch at that trendy new Naples restaurant whose namesake menu item is a plate of salt.
Gulfshore Insider : What's happening… what's hot in May
From the Editor : Best Bets From Our Editors
Fashion : Show Time!
Culture Watch : The Silly- and the Sublime
May Calendar : What's happening this month.
Appetite : Yes for Business and Pleasure
Ahead of the Curve : 7 Things You Need To Know About… Finding Our Hidden History
Fashion Forward : Off the Runway, Shopper Alerts, Local Shopping
The Look : Great Taste
[DFR::776112-1154-ls|align_left_1]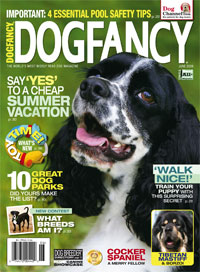 Bow Tie Inc. has released its June 2009 issue of Dog Fancy Magazine! Featured this month are articles on traveling cheaply with your dog, discover the latest dog toys, best dog parks, and the Cocker Spaniel, Tibetan Mastiff, and Borzoi breeds.
Take Your Dog to Work Day Tip Sheet
Helpful tips for a successul day at the office — with your dog in tow.
Travel on the Cheap
Times are tough, but you and your dog can still afford to get away.
It's vacation time: How can you do it cheaply? For Julie N. of Nevada, the answer starts with packing her truck with camping supplies — a sight that excites her dogs.
"They know exactly where we're going," she says. "New smells, old friends, and the great outdoors." The cost is nominal, the fun — priceless.
This summer you don't have to put off taking a vacation. Read on for ideas on how to get away from it all without breaking the bank.
Dogs in Toyland
Discover the latest in toy trends and what dogs like best.
For years my dogs ignored the stuffed purple frog I thought they'd enjoy playing with. Then along came my Belgian Malinois puppy. Della immediately latched onto that frog and loved snuggling with it like a pacifier. More than seven years later, repaired so many times it's almost more thread than fabric, that frog remains Della's favorite toy.
We never know what toy might strike our dog's fancy. As a result, "the dog toy market has grown exponentially since the ball and stick days, now offering products in assorted materials, textures, shapes, and sizes," says Gina M., manager for DogToys.com, an online store based in Pennsylvania.
America's Best Dog Parks
These top dog parks make us want to get out and play.
The 2009 DOG FANCY America's Best Dog Park has that kindred community spirit in spades. As park user Lynn V. told us, "This park has been possible only through generous donations of time, money, and equipment — and a lot of blood, sweat, and tears."
Full-time friend
The charming Cocker Spaniel is a perennial family favorite.
Becky and Hilary have important work to do.
Every day, the two Cocker Spaniels accompany their owner, Ann J. to her veterinary oncology hospital in Pennsylvania. There, they offer comfort and quiet companionship to people whose pets are receiving cancer treatment.
"They act as therapy dogs and brighten up people who are feeling low," Ann says.
"Becky has been coming to the hospital with me for 10 years. People look for her, expect to see her, and ask for her," says Ann, a longtime Cocker Spaniel breeder who shows her own dogs. "Both Becky and Hilary are very interactive with people, which is a big feature of the breed. They're also affectionate and merry. And that's the essence of the breed."
An Army of One
You won't lose any sleep knowing there's a Tibetan Mastiff on guard.
When Richard E. came home from work one afternoon, he heard a voice calling out from the other side of the front gate: "Help me!"
Richard opened the gate to find a forlorn meter reader perched on a rock about 20 feet inside the front gate.
Several feet away stood Rexx, Richard's massive, impressive, and intimidating Tibetan Mastiff.
"He was afraid at first, but when it became clear that the dog was not aggressive, he tried to see if he would be allowed to exit the yard," says Richard, a breeder and American Kennel Club judge in Palmdale, Calif. "Each time he started to slide off the boulder, Rexx would give a warning growl, as if to say, 'You are going to stay put until my master gets home.' That he did.
Borzoi
This laid-back dog loves to run.
Like other hounds, Borzoi love being part of a pack. According to breeder and American Kennel Club judge Patti N. of Florida, many Borzoi owners bring more than one Borzoi into their lives. The reason? These dogs get along well together — even the males, which in many breeds can be inclined to fight.
[DFR::138212-1154-ls|align_left_1]
This weeks issue of The Week magazine has arrived in mailboxes. Features this week include: Post-college careers: Rotten luck for the Class of 2009; Raising the fuel efficiency of tomorrow's autos; Obama tackles abortion issue; Sri Lanka's civil war ends; and Pelosi and waterboarding: How much did she know?
Arts & Leisure
Books
Author of the week: Suze Orman
Novel of the week: Sunnyside by Glen David Gold
Gabriel García Márquez: A Life by Gerald Martin
Book of the week: Mothers and Others: The Evolutionary Origins of Mutual Understanding by Sarah Blaffer Hrdy
Music
Green Day: 21st Century Breakdown
Steve Earle: Townes
Summer sounds: Upcoming music festivals across the U.S.
Film
Angels & Demons
The Brothers Bloom
Management
People and Gossip
Gossip: Woody Allen
Gossip: Brooke Shields
Gossip: Natalie Portman, Sean Penn
Gossip: Farrah Fawcett
George Hamilton's manufactured image
Nazaar Joodi's unhappy asylum
When Michelle Pfeiffer was easy prey
Lifestyle
New cars: BMW 335d
The best … indoor/outdoor chairs
Tip of the week: How to trim expenses
Best websites to cut travel costs
For those who have everything: Legacy Locker
Travel
This week's travel dream: The other side of Brazil
Getting the flavor of … Lockdown in old Missouri, and more
Last-minute travel deals
Hotel of the week: Mondrian South Beach, Miami
Book List
Best books … chosen by Lisa See
Stage
Stage: Giant
Art
Exhibit of the week: The Generational: Younger Than Jesus
Television
The Week's guide to what's worth watching
Movies on TV this week
Show of the week: Expedition Africa: Stanley & Livingstone
Extras
Business columns: How a good idea turned harmful
Business columns: Deregulation is getting a bad rap
Issue of the week: Getting tough on antitrust
Making Money
Workplace
What the experts say
Post-college careers: Rotten luck for the Class of 2009
Main Stories
Raising the fuel efficiency of tomorrow's autos
News & Opinion
Raising the fuel efficiency of tomorrow's autos
Obama tackles abortion issue
Sri Lanka's civil war ends
Controversies
Pelosi and waterboarding: How much did she know?
Best Columns – US
Will voters actually like change?
The derailment of a great American icon
The wounded soldiers we'd rather forget
Quote of the week: Michael Gerson
Best Columns – Europe
United Kingdom: The crime of walking while black
Austria: Where Nazi sympathies no longer shock
Germany: A growing gap between rich and poor
Best Columns – International
Saudi Arabia: Beware of sweet-talking women
South Korea: A society that needs no appointment
Talking Points
Cheney: Why he's gone on the offensive
Abuse photos: Obama's change of heart
The media: Can The New York Times survive?
Briefing
The charter school alternative
How They See Us
When Bibi met Barack
Obituaries
Wayman Tisdale
Robert B. Choate Jr.
Sid Laverents
Health and Science
Health & Science
Health scare of the week: The threat of Martian microbes
It Wasn't All Bad
Pig roots up World War I bomb, and more
Boring but Important
Credit card overhaul
Only in America
Using stun guns on children, and more
Good Week – Bad Week
'Heteropaternal superfecundation,' and more
Tabloids
Teenager brandishes banana in store hold-up, and more
Noted
More adults living with parents, and more
[DFR::617525-1154-ls|align_left_1]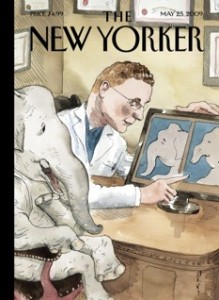 Condé Nast has published the May 25, 2009 issue of The New Yorker. Featured in this magazine are articles on Obama's options in Pakistan, Dodge Landesman, Ari Emanuel and learning-disorder awareness, Todd Palin and Alaska Benefisheries, and Baselworld trade show.
Comment
In Search of Success
Obama's options in Pakistan.
In 2007, a Guantánamo military commission reviewed prisoner No. 008, also known as Abdullah Gulam Rasoul, a designated enemy combatant who had been held without legal rights for about six years. Rasoul told his captors that he had "never been America's enemy and I never intend to be." Guantánamo's quasi-jurists transferred him to Afghanistan's government, which set him free. This spring, under the name Mullah Abdullah Zakir, he has resurfaced as one of the most vicious and effective Taliban commanders in Afghanistan's southern Helmand Province, where thousands of recently deployed U.S. troops are now arriving to join the battle.
The Talk of the Town
Dodge City
The youngest City Council member in history?
Talk story about Dodge Landesman, an eighteen-year-old candidate for City Council.
Fish Out of Water
Todd Palin at Alaska House.
A couple of Fridays ago, when the weather was warm and office workers all over the city were streaming up the avenues at lunchtime, a group of Alaskans gathered at Alaska House, on Mercer Street, for a buffet lunch celebrating a program called Alaska Benefisheries. The program works like this: Every spring, salmon across the Pacific are seized with an urge to swim to Alaska, to spawn in the tributaries of the rivers where they were born. But, before they get there, most are caught by fishermen and sold to restaurants all over the world. What's not sold is canned and shipped to countries that have food shortages—Bolivia, Laos, Cambodia, among others.
Hug It Out
Ari Emanuel and learning-disorder awareness.
The shtick of successful, confident people insisting that they were losers back in high school can be unconvincing, but the talent agent Ari Emanuel—a winner, if not a born one, who, after the merger of Endeavor and William Morris, will become co-C.E.O. of the second-largest shop in Hollywood—had it pretty tough
The Privileged Few
Now boarding—everybody but you.
On and Off the Avenue
Face Value
What makes the watch business tick.
About luxury wristwatches and the Baselworld trade show. Held over eight spring days for the past thirty-seven years in Basel, Switzerland, Baselworld is the largest watch trade show in the cosmos.
Shouts & Murmors
Book Club
by Ann Hodgman
The Sporting Scene
One-Stop Shopping
The great college lacrosse tryout.
In early summer, high-school rising seniors from all over the United States play lacrosse for three days on the vast campus of the University of Maryland, at College Park.
 
No More Mr. Nice Guy
The stealth activism of John Roberts.
When John G. Roberts, Jr., emerges from behind the red curtains and takes his place in the middle of the Supreme Court bench, he usually wears a pair of reading glasses, which he peers over to see the lawyers arguing before him. It's an old-fashioned look for the Chief Justice of the United States, who is fifty-four, but, even with the glasses, there's no mistaking that Roberts is the youngest person on the Court. (John Paul Stevens, the senior Associate Justice, who sits to Roberts's right, is thirty-five years older.) Roberts's face is unlined, his shoulders are broad and athletic, and only a few wisps of gray hair mark him as changed in any way from the judge who charmed the Senate Judiciary Committee at his confirmation hearing, in 2005.
The Sixth Extinction?
The earth's species in peril.
Describes how graduate student Karen Lips observed the mysterious disappearance of large numbers of local golden frogs, in the nineteen-nineties, at several locations in Panama and Costa Rica. Whatever was killing Lips's frogs moved east, like a wave, across Panama. Of the many species that have existed on earth, more than ninety-nine per cent have disappeared. Yet extinction has been a much contested concept.
"Ava's Apartment"
by Jonathan Lethem
The movies of Victor Fleming.
Briefly Noted: "The First Tycoon"; "The Age of the Unthinkable"; "The Way Home"; "All the Living."
"Mental."
by Nancy Franklin
An all-black "Death of a Salesman," "Bloody, Bloody Andrew Jackson."
by John Lahr
Venice and the birth of opera.
by Alex Ross
 
The portraits of Alice Neel.
by Peter Schjeldahl
The Guggenheim at fifty.
by Paul Goldberger
"Angels & Demons," "Summer Hours."
by David Denby
 
"Hummingbird"
by Robert Gibb
"1934"
by Philip Levine
The work of Wallace Shawn.
by Hilton Als
Leonard Freed, at the Silverstein gallery.
by Vince Aletti
Bar Breton
by Mike Peed
[DFR::299047-1154-ls|align_left_1]