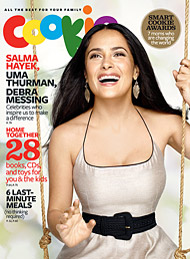 Condé Nast has released the May 2009 edition of Cookie Magazine!
Style+Beauty
 
Kids' Swimsuits
This season's vibrant swimsuits are so cool your kids will want to wear them in the pool, the sprinkler, and even in the bath!
Travel
 
Road Trip Games
We've all been there: It's six minutes into the family road trip you've been planning for months, and the kids are already asking, "Are we there yet?" Make the drive a fun adventure with these classic road-trip games.
Prince Edward Island Extras
If the Anne of Green Gables bent isn't enough of a hook, the kids might be interested in these little-known nuggets.
Food+Parties
 
Party Favors
Tired of the usual post-party haul of plastic trinkets and sugary treats? These six unique favors go the extra mile.
Q&A: Dan Barber
This New York City–based chef operates two Blue Hill restaurants: one in Greenwich Village, the other at the Stone Barns Center for Food & Agriculture in bucolic Pocantico Hills, New York. Both outposts feature locally grown, seasonal produce with a heavy emphasis on friends and family.
Entertainment
 
Cookie Sheet: Kathy Ireland
The supermodel and supermom is one busy woman. When she's not managing Kathy Ireland Home or getting her photograph taken, she's running after her three kids.
Cookie Sheet: Lyss Stern
The author is the epitome of the stylish, unflappable, do-it-all mom, but even she gets frazzled now and then (phew!)
Cookie Sheet: Christine Coppa
The writer behind Glamour.com's hugely popular blog Storked! dishes about life as a single mom and shares an exclusive excerpt from her new book, Rattled!.
Burn After Reading Review
Being that you're a parent, there's little hope of seeing films the first time around. Our reviews editor wades through his Netflix queue to help you prioritize yours.
Original vs. Remakes
We took the two Witch Mountains—and four other recently remade classics—and pit them against one another, head to head, film to film, to see which version comes out on top for today's kids.
Playlists for Parents
Whether you're into pop music in the most literal sense (i.e., popular), or you like to keep one step ahead of the Top 40 deejays, or you pride yourself on name-dropping bands that would stump your average Rolling Stone critic, there's always new music out there for you to find.
Audio Books
16 of the best children's audio books narrated by actors.
Gear+Shopping
Online Sales
The best sales on the Web this week
Thank You Cards
Even though you (probably) don't coordinate matching outfits, we know that sometimes it's fun to sync up with your little one. Here are eight pairs of note cards that let you express your gratitude in similar style.
Mother's Day Gift Guide
Our favorite finds for the mom who gave you everything.
Best Strollers
Finding the right stroller for you, your child, and your lifestyle can be a major headache. We had suburban and urban parents around the nation test 19 of the top selling strollers in all price ranges to see which ones are worth your time and money.
Home Front
 
Summer Camp
With summertime around the corner (well, we wish!), it's time to start thinking about choosing a camp for your child. But with more than 11,000 camps in the United States, how does a parent choose?
That Mom
We all have a moment when we spy That Mom. She's the one who looks like she knows something we don't. It's the way she belts her sweater, or the way her ballet-flat-and-skinny-jean combo radically upgrades the drop-off uniform. Lucky for us, these fashion mavens aren't stingy with their secrets.
Alphabet Posters
Looking to adorn your kid's wall with the ABCs? Finding something that's both cute and modern is as easy as 1-2-3.
Brain+Body
 
Healthy Travel
Find out how to keep your family healthy while traveling with tips from an eco-dad and the author of Healthy Child Healthy World: Creating a Cleaner, Greener, Safer Home.
Travel
 
Prince Edward Island
Just off the eastern coast of Canada, the home of Anne of Green Gables is the perfect sleepy summer getaway: gentle tides, rolling meadows, fresh seafood galore, and—blessedly—no crowds.
Hawaii
We're all for trying new things, but sometimes the most rewarding—and certainly the most relaxing—vacation destination is the one you go back to year after year. For one family of six, that place is Kona Village on Hawaii's Big Island.
Kona Village, Hawaii Tour
A photographic tour of Kona Village, Hawaii.
Food+Parties
 
Fritters
Pancakes, patties, and fish cakes that capitalize on your children's love of golden-fried fritters.
Entertainment
 
ABC Books
A child's love affair with letters can start long before she's mastered her alphabet. We've rounded up our favorite ABC books, from classic to contemporary, simple to surreal.
Home Front
 
House In Pasadena
In South Pasadena, one couple turn a historic Craftsman bungalow into a clever, ultrafunctional family home.
Pasadena House Tour
Explore this couple's beautiful home in South Pasadena.
Finding Music
You Like Here are three tailor-made musical playlists with detailed descriptions that will help you get back in the groove.
 [DFR::778610-1154-ls|align_left_1]