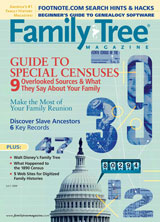 The July 2009 issue of Family Tree Magazine has been released! Featured in this issue are articles on guide to special censuses, reverse genealogy, genealogy programs, tracing slave ancestors, and mining genealogical treasures at reunions.
Guide to Special Censuses
There's more to the census than those every-10-years counts. These "extra" censuses of select populations may have just the ancestor answers you need.
Switching Gears
Think tracing your tree back in time is the only way to go? Think again. We got some unconventional researchers to share their reverse genealogy secrets.
Meeting Your Match
Longing for the perfect mate to help you record, organize and share your genealogy findings? Don't make a blind date—our beginner's guide to genealogy software explains how to find the right program for you.
Tracing Slave Ancestors
Don't stop your family history search at the Emancipation Proclamation. Use these techniques to discover African-American roots obscured by slavery.
Reunion Riches
Gold-digging at a family get-together is generally frowned upon. But mining for genealogical treasures can build a priceless family legacy.
Columns & Departments
Branching Out
What's new in discovering, preserving and celebrating your family history:
• the Norway Project
• genealogy news roundup
• the Cologne, Germany, city archive's collapse
Web Guides
Learn to master family history Web sites: Whether you're a beginner or a power user, our pullout guides show you how to make the most of popular online destinations, with how-to advice, navigation hints, screen-by-screen search techniques and cheat sheets of quick links and shortcuts.
The Toolkit
Reviews and roundups of the latest, greatest family history resources:
• Web site building tips
• quick guide to online family and local history books
• Irish Family History Foundation Web site
• review of RootsMagic 4 software for Windows
• The Book Report
Out on a Limb
Here today, gone tomorrow?
Preserving Memories
Tips for saving vintage toys.
Everything's Relative
Tales from the lighter side of family history.
Photo Detective
Pinpointing places in pictures.
Uprooted
Test your genealogy IQ on Walt Disney's family tree.