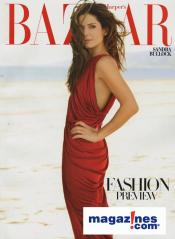 Hearst Communications has published the June 2009 issue of Harper's Bazaar. Featured in this months magazine are an interview with Sandra Bullock, a bride's quest to find the perfect non-white wedding dress, and a look at what's going to be chic this fall.
Sandra Bullock: Myth & Reality
She spent her 20s worrying and her 30s working nonstop. Now in her 40s, the actress is living life her way.
On a clear afternoon in the desert, Sandra Bullock was having a near-perfect Saturday. She and her husband of almost four years, Jesse James, 40, were riding dirt bikes across a dry lake bed, taking in the view of the mountains and the desolate beauty of the landscape.
"Then on Monday, my publicist says, 'Oh. My. God. There are pictures of you everywhere.' And I said, 'From what? We just went on this little trip!'" says Bullock, who is sitting on the floor in a West Hollywood photo studio where she spent the day shooting promos for her latest film, The Proposal. (Chairs don't seem capable of containing her. The energy and gestures are so big that she may be safer on the floor.) It seems that an amateur paparazzo snapped her during a pit stop on the way to the middle of nowhere, and the rare candid shot of the star taken outside of her adopted hometown of Austin made its way to the Internet. "I panicked. We were in the desert, no place to pee. So I peed outside. [I thought] on the cover of the tabloids, there's going to be a picture of me peeing by a cactus. And yes, I did it. I'll do it again."
For people who love Bullock, 44, there are a couple reasons why this story proves their affections haven't been squandered. For one thing, the same woman who wore a Dior gown with grace to the Golden Globes a few months ago and is consistently listed as one of the most powerful females in Hollywood also enjoys riding dirt bikes. And for another, she thinks it's all fairly hysterical.
"Right now, I'm kind of getting into my childhood," says Bullock, by way of explanation. "I didn't have a teenage or early-20s experience that was free and without worry. I missed the screw-everything, have-a-good-time phase. I was worried that if I didn't stay on track and work, work, work, I was never going to accomplish anything. Now I'm trying to have fun and have the freedom to do nothing."
The Bride Wore Blue
One woman's journey to find the perfect wedding dress in any shade other than snowy white.
I have never once imagined myself in a wedding dress. Not when I was little and liked to take my parents' quilted wedding album off its shelf and admire, on its thick board pages, the photos of my dark-haired father and my mother with a ring of daisies on her head. And not when I grew old enough to see my own friends swathe themselves in yards of lace and satin and taffeta in subtly differing shades of cream and ivory and bone.
And not even once in the months after my boyfriend and I decided we should get married ourselves. "You'll see," everyone says. "It all feels different when the time comes."
Well, the time came and went, and at no moment did I long to wear anything specifically bridal. Which is not to say I didn't love being a bride, in the sense that getting married makes one a bride. I just never at any moment imagined myself in white.
A Trend-by-Trend Look at Fall
The runways were ablaze with color, pattern, and pop. Here's a glimpse of some of the most memorable looks, from bold animal prints and unique ethnic motifs to timeless standbys like the classic white shirt and the ever-chic camel coat. Don't miss out on all of the best trends that will not only make you feel good, but look it, too.
[DFR::205412-1154-ls|align_left_1]