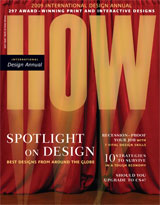 HOW's April Issue is packed full of inspiration, as it debuts the winners from their biggest competition—the 2009 International Design Annual—featuring 297 award-winning print and interactive designs. This year's Best of Show is unlike anything we've ever seen before!
FEATURES
International Design Awards
After 3 days of judging fabulous design, judges Stefan Bucher, Shannon Carter and Lisa Sanger narrowed down the winners.
Best of Show: Map-tastic
You've never seen a city map like this before, and it drew raves from their judges. Take a look at how lenticular technology takes a common object from 2D to 3D—and revolutionizes this wayfinding tool.
Interactive Design Awards
Best of Show: Digital Book Smarts
This year's Best of Show takes interactive design to new heights, for an engaging environment for visitors to the Library of Congress.
COLUMNS
Career: Hot Skills for Slow Times
Recession-proof your design career by brushing up on these 7 in-demand creative skills that'll give you an edge over your colleagues and competitors.
Creativity: Business Tripping
We were so intrigued by startup design studio Hatch that we peeked inside their San Francisco workspace, too.
Business: Weathering the Storm
Don't panic. Here are 10 business strategies to help your design firm survive a tough economy—and thrive in the long term.
Disciplines: Information overload
Designers are increasingly tapped to bring clarity to complex data. Here's what you need to know to create effective infographics in an over-saturated world.
Technology: CS4—Should You Upgrade?
Adobe's latest version of Creative Suite adds functionality to improve your workflow. Our technology guru tells you whether an upgrade is worth your dollars.
[DFR::22216-1154-ls|align_left_1]