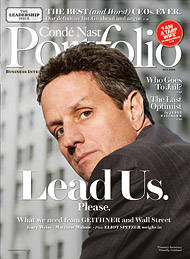 Condé Nast has released their latest edition of Portfolio Magazine. The cover story features Tim Geithner, and the learning that he has had to do in public view while Treasury secretary. Also featured are articles on fund manager Bill Ackman, Boeing, Eliot Spitzer, and an update in the race to build the tallest skyscraper.
Cover Story: The Reeducation of Tim Geithner
Growing up is hard to do—especially in public. After his disastrous start, the Treasury secretary is scrambling to learn on the job. But how long can we afford to wait?
The Optimist
Hedge fund manager Bill Ackman wiped out nearly $2 billion in a bet on Target's stock. So why is he so sure he can fix his problems—and America's?
Confessions of a TARP Wife
Forget the opera. Cancel dinner at Bouley. How life has changed since my CEO husband went on the government dole.
Bumpy Ride
Two years late, Boeing's Dreamliner jet makes its maiden test flight this spring—straight into the turbulence of the financial crisis. Boeing is losing billions in canceled Dreamliner orders and has been repeatedly passed over for Pentagon contracts. Can it break its losing streak?
We, the Jury
Want to see Dick Fuld in prison stripes? Angelo Mozilo in solitary? Join the crowd. A conversation with top legal minds on who will and who won't be prosecuted—and why.
Eliot Spitzer: Redemption Tour
Emerging from exile after his own scandal, New York's former top cop speaks his mind.
False Starts
The race to build the tallest skyscraper on earth is at a complete standstill.
Sorrell Squared
The chief of WPP Group delivers the big picture on the American brand, advertising during the recession, and which of his competitors will sink or survive in the months ahead.
International Man of Misery
The global economy is in free fall, but do-gooder Jeffrey Sachs, formerly known as Doctor Shock, is still trying to end poverty and save the world. Can he? Can anybody?
The Best (and Worst) CEOs. Ever.
We've come up with our definitive list. Go ahead and argue.
Toxic Pay
One bank's innovative solution to the Wall Street bonus problem.
Idol Riches
A back-of-the-envelope calculation of how much the hit TV show has been worth to all the stars, wannabes, and do-gooders who make money from it.
Driven to Billions
Recession busters: How small businesses can make it big in down times. Russ Gerdin isn't afraid of the recession. He and his company are too busy stealing market share.
Shifting Gears
At security-software giant Symantec, John Thompson was one of the country's most powerful black CEOs. Now he's opting for life in the slow lane.
MTV Gets Real (Sort of)
The cable channel is betting that the answer to its financial woes is a slew of programs like The Hills.
Back to Earth
Richard Prince's artworks have plummeted in value as hedge fund collectors have fallen away.
Bubble Trouble
In The Cost of Capitalism, an economist says that the Fed has sadly ignored history.
Envy Takes a Holiday
Populist outrage might be on the rise, but some of capitalism's other deadly sins have taken a hit.
Spinmeisters of the Apocalypse
The public-relations experts hired to repair the images of disgraced executives.
Size Matters?
Surprisingly, the biggest finance scandals haven't lead to the highest paying publishing contracts.
42 vs. 43
Clinton or Bush? Guess which president has longer post-administration coattails.
Stud Poker
Kentucky Derby winners who made more off the racetrack than on it.
[DFR::794712-1154-ls|align_left_1]